Home-movers and estate agents are faced with perhaps the biggest ever transformation in how properties are marketed and viewed as England's housing market reopens for business, according to an expert.
Property professionals said they are ready to help England's housing market spring back into life, although they will need to take a cautious approach.
In a sign of pent-up market demand starting to be released, property website Rightmove reported a 45% surge in online viewings on Wednesday.
Estate agents also saw an upturn in inquiries although some customers were questioning why they should allow house hunters in their home when members of their own family were still unable to visit.
Experts also said house price corrections could be "brutal" in some parts of the country, as buyers sense the potential for discounts.
The experience of buying and selling a home will be different from "normal" times, meaning people will need to be flexible and prepared to alter plans if they cannot keep to social distancing rules.
Government guidelines indicate that more of the process will take place online and some, or all, moves may still need to be paused to limit the spread of coronavirus.
People wanting to sell their home are being advised to vacate their property while viewings take place and buyers and sellers should expect to delay moves if someone involved gets Covid-19.
And they should not expect to move into any home where people have coronavirus or are self-isolating.
Rightmove saw a 45% increase in visits to its website on Wednesday morning compared with Tuesday morning.
Its housing market expert, Miles Shipside, said: "Home-movers and estate agents are faced with perhaps the biggest ever change in the way that houses are marketed, viewed and surveyed."
Mr Shipside added: "These guidelines are understandably stringent as they are there for everyone's safety.
"All parties will have to be innovative to work within these guidelines where practical, and put safety first in any grey areas that are not covered by the guidelines.
"Technological solutions will not suit every situation or every individual so there will need to be workarounds which still comply with strict social distancing."
Jeremy Leaf, a north London estate agent and a former residential chairman of the Royal Institution of Chartered Surveyors (Rics) said: "Already today we have received calls from landlords, vendors, tenants and prospective buyers who want to get on with things, for whatever reason.
"However, we do understand that people living in properties are falling into two distinct camps.
"There are those who embrace wholeheartedly the ability to show their homes to prospective buyers providing it is safe to do so and the appropriate equipment is worn by agents and any visitors to the property.
"On the other hand, there are some who take the view: 'Why should I throw my doors open to estate agents or prospective buyers or tenants when I can't throw them open to my children or grandchildren?'"
Jonathan Hopper, chief executive of Garrington Property Finders, said: "Strategic buyers sense that the Covid shock could trigger big price reductions, and that the post-lockdown market will be a buyers' one."
He said both buyers and sellers "will be feeling their way on price".
Mr Hopper added: "The critical factor now is the local market. Areas with a more resilient jobs market should see values hold up better, but elsewhere the price correction could be more brutal."
Mark Manning, managing director of Leeds-based estate agency Manning Stainton, said all of the chain's 19 branches would open on Thursday.
He said: "We've had a first-day back team ready and prepped for the last fortnight…
"We've issued detailed safety guidelines, based on the latest Government guidance, for all our staff to follow, to ensure we keep both our team and customers safe."
He added that in-branch staff would be supplied with PPE and "a generous supply of hand sanitiser, and strict social distancing measures will be in place across the business".
Mr Manning added: "Visits to branches will be by appointment only, to ensure we can manage numbers safely, and home visits, including valuations, will be done whilst following strict social distancing guidelines.
"When it comes to viewings, we're actively encouraging potential buyers to do them virtually via our website initially, with actual viewings then taking place by appointment if a potential buyer has a genuine interest in the property.
"Again, all viewings will be conducted whilst following strict social distancing guidelines, with anyone entering a home having to sanitise their hands before and after the visit."
Mark Hayward, chief executive, NAEA (National Association of Estate Agents) Propertymark, said: "Some agents are choosing to reopen sooner rather than later based on local demands in their area.
"Others have said they are taking a more cautious approach, particularly where they have staff on furlough and where staff will need to commute into the office."
According to the Government, more than 450,000 buyers and renters have been unable to progress their plans to move since March.
Lucy Pendleton, property expert at estate agents James Pendleton, said: "We've got all the necessary PPE ready to go, and buyers and sellers keen to start viewing straight away."
She added: "Agents have been desperate to get back to business."
Jeremy Raj, national head of residential property at solicitors Irwin Mitchell, said: "We have already been contacted by clients keen to resume where they left off, and we look forward to assisting them in achieving their goals and completing those transactions very soon."
Charlie Bryant, chief executive at Zoopla, said: "Opening up the housing market is not just great news for home-hunters and estate agents.
"As well as unlocking £82 billion of housing sales stalled in the pipeline, it will provide an all-important boost to the real economy, as housing sales trigger increased spending through builders, tradespeople, removal firms, solicitors and many more."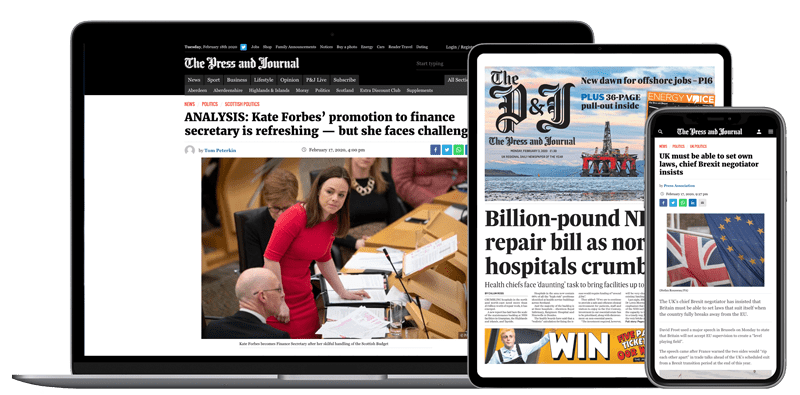 Help support quality local journalism … become a digital subscriber to The Press and Journal
For as little as £5.99 a month you can access all of our content, including Premium articles.
Subscribe