Swiss bank UBS has reported a bumper profit of 29 billion US dollars (£22.8 billion) in the latest quarter after taking over collapsed rival Credit Suisse earlier in the year and setting a massive cost savings target.
The huge earnings for the three months to June follow what group chief executive Sergio Ermotti described as "one of the biggest and most complex bank mergers in history".
The pre-tax profit figure largely reflects the assets it acquired from Credit Suisse after buying the beleaguered bank for a discounted price of 3.2 billion US dollars (£2.5 billion) in March.
When those assets and any merger-related expenses and acquisition costs are stripped out, the profit comes in at a much more humble 1.1 billion US dollars (£870,000) for the quarter.
UBS said it completed the takeover of the rival Swiss lender in June and plans to fully integrate the Swiss arm of Credit Suisse.
Fully absorbing the division is the "best outcome for UBS, our stakeholders and the Swiss economy", concluded Mr Ermotti.
But Mr Ermotti confirmed on Thursday morning that he expects to see about 3,000 jobs cut across Switzerland in the coming years as UBS looks to reduce costs.
It is expected to come from forced redundancies as well as natural attrition – meaning people who leave and are not replaced – and retirements.
It is the first time that the bank has specified the number of jobs it plans to shed, but the full number of job losses across UBS and Credit Suisse offices around the world is expected to be much higher.
UBS said it wants make cost savings totalling a sizeable 10 billion US dollars (£7.9 billion) by the end of 2026, which could be reflected in headcount reductions across the 120,000-strong combined group.
UBS employs about 6,200 people in the UK with offices in cities including London, Birmingham and Manchester, while Credit Suisse had about 5,500 people based in the UK prior to the merger.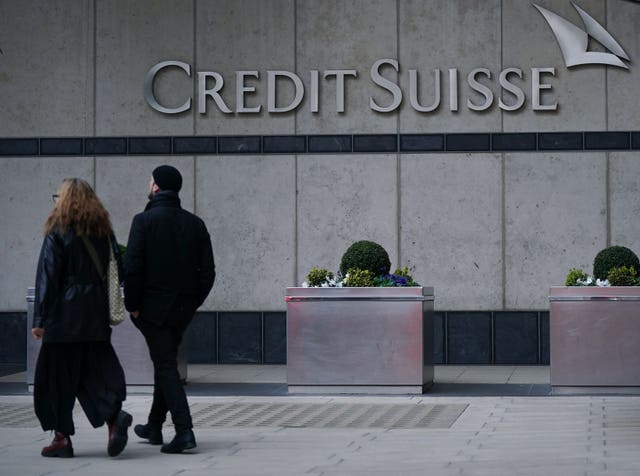 Furthermore, UBS said it has begun siphoning off Credit Suisse units which are "not aligned with our strategy and policies", including its investment bank, into a newly created "non-core and legacy" division.
It forms part of plans to stamp out cultural issues which clouded parts of the historic bank.
Some 55 billion US dollars (£43.3 billion) worth of assets make up the new division, with about half expected to run off by the end of 2026, UBS said.
Mr Ermotti said: "Two-and-a-half months since closing the Credit Suisse acquisition, we are wasting no time in delivering value for all our stakeholders from one of the biggest and most complex bank mergers in history.
"We are winning back the trust of clients, reducing costs and taking the necessary actions to create economies of scale that will allow us to better focus our resources and target investments for future growth.
"This combination will reinforce our status as a premier global franchise – and one that our home market, Switzerland, can be proud of. We are humbled by this task and the responsibility entrusted to us."