The proportion of new cars registered last month that were battery electric was lower than a year earlier, new figures show.
Just 16.6% of registrations in September were pure electric compared with 16.9% in the same month in 2022, the Society of Motor Manufacturers and Traders said.
At least 22% of new cars sold by manufacturers in the UK next year must be zero emission under the Government's zero-emission vehicles (ZEV) mandate.
The decline in the market share of battery electric new cars last month was driven by a 14.3% decrease in registrations by private buyers.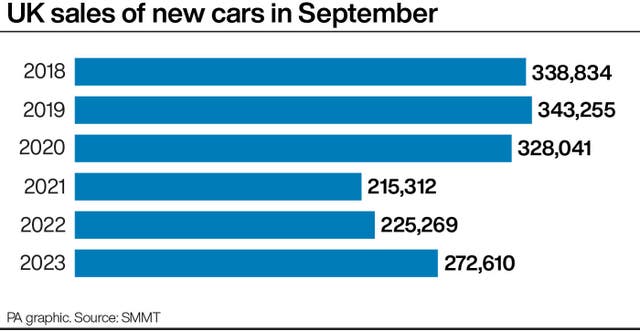 Purchases for fleets rose by 50.6%.
The overall new car market increased by 21.0% in September with 272,610 vehicles registered.
September is traditionally a strong month for car sales due to the introduction of new number plates.
Under the ZEV mandate, manufacturers that fail to meet thresholds and do not make use of flexibilities – such as carrying over allowances from previous years – will be required to pay the Government £15,000 per polluting car sold above the limits.
Last month, Prime Minister Rishi Sunak delayed the ban on the sale of new petrol and diesel cars and vans from 2030 to 2035.
SMMT chief executive Mike Hawes said: "A bumper September means the new car market remains strong despite economic challenges.
"However, with tougher EV targets for manufacturers coming into force next year, we need to accelerate the transition, encouraging all motorists to make the switch.
"This means adding carrots to the stick – creating private purchase incentives aligned with business benefits, equalising on-street charging VAT with off-street domestic rates, and mandating charge point rollout in line with how electric vehicle sales are now to be dictated.
"The forthcoming Autumn Statement is the perfect opportunity to create the conditions that will deliver the zero-emission mobility essential to our shared net-zero ambition."
Ian Plummer, commercial director at online vehicle marketplace Auto Trader, said: "The big question is how some players in the industry reach 22% by the end of next year under the new ZEV sales mandate.
"Many face a difficult choice between selling fewer petrol and diesel vehicles, paying hefty fines or buying credits from all-electric new market entrants such as BYD, Tesla and Polestar.
"To square that circle, we could see prices come down to encourage consumer demand further."
Alex Buttle, co-founder of used car marketplace Motorway.co.uk, said: "The majority of EV registrations are still from fleet users taking advantage of the favourable benefits offered to company car buyers.
"If the Government could now provide similar incentives to private buyers, we could see EV sales surge even further and the switchover accelerate in the run up to 2035."
RAC spokesman Rod Dennis said: "We believe it's vital the Government shows its commitment to zero-emission driving and doing its bit to sustain demand by stimulating the less expensive end of the new electric car market.
"A refreshed plug-in car grant would go a long way towards helping more drivers switch to electric cars sooner."