The number of new cars registered in the UK in October increased by 14.3%, new figures show.
Some 153,529 new cars were registered last month, up from 134,344 in October 2022, the Society of Motor Manufacturers and Traders (SMMT) said.
The SMMT revised upwards its forecast for the number of new cars that will be registered in 2023 and 2024, to 1,886,000 and 1,970,000 respectively.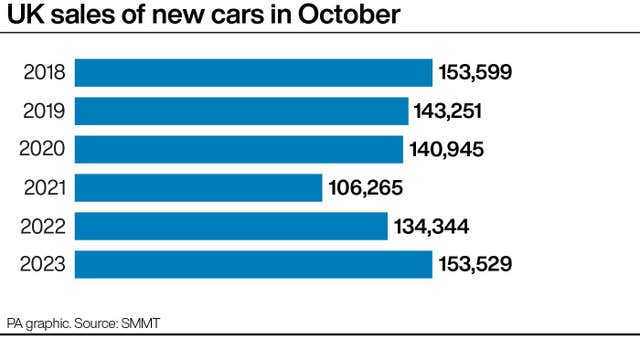 Its previous forecast, issued in July, predicted that registrations would reach around 1,847,000 this year and 1,951,000 next year.
But the forecast for registrations of pure battery electric new cars this year has been downgraded from 440,000 to 439,000.
The market share of pure battery electric new cars last month was 15.6%, up from 14.8% a year ago.
SMMT chief executive Mike Hawes said: "With demand for new cars surpassing pre-pandemic levels in the month, the market is defying expectations and driving growth.
"As fleet uptake flourishes, particularly for EVs (electric vehicles), sustained success depends on encouraging all consumers to invest in the latest zero emission vehicles.
"The autumn statement is a key opportunity for government to introduce incentives and facilitate infrastructure investment.
"Doing so would send a clear signal of support for drivers, reassuring them that now is the time to switch to electric."
At least 22% of new cars sold by each manufacturer in the UK next year must be zero emission, which generally means pure electric, under the Government's zero-emission vehicles (ZEV) mandate.
The threshold will rise each year until it reaches 100% by 2035.
Failure to abide by the rule or make use of flexibilities, such as carrying over allowances from previous years, will result in a requirement to pay the Government £15,000 per polluting car sold above the limits.
Ian Plummer, commercial director at online vehicle marketplace Auto Trader, said: "With ever-growing zero-emission vehicle mandate requirements looming, manufacturers will be using every tool they can to increase new electric sales.
"Currently, our research shows over two-thirds of new electric cars are enjoying some kind of offer.
"By combining discounts and finance offers on the table, new electric car monthly payments are getting ever closer to petrol and diesel.
"This, paired with the potential £153 saving per 1,000 miles when fuelling an electric car, mean that right now it's a great time to consider going electric.
"If calls for delays to the rules of origin requirements are heeded, we can hope to see some significant growth in private new electric car sales over the coming months."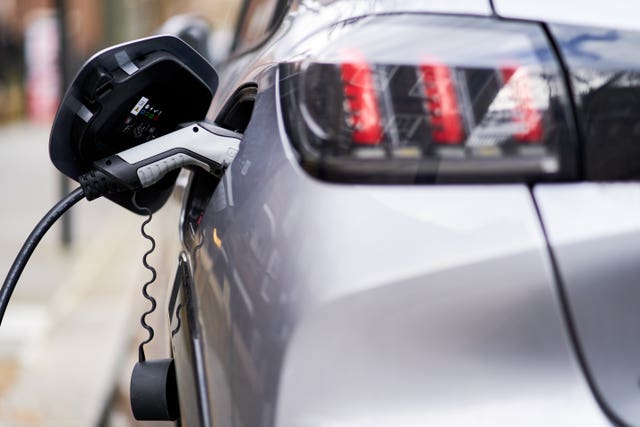 Rules of origin requirements are set to be introduced for trade between the UK and the EU from January 1 following post-Brexit agreements, although there are calls for them to be postponed.
Tariffs of 10% are due to be imposed on exports of electric cars if at least 45% of their value does not originate in the UK or EU.
Manufacturers will struggle to meet that threshold as battery production within Europe has not increased as quickly as hoped.
The SMMT previously estimated the tariffs could result in an average price rise of £3,400 on EU-manufactured pure battery electric vehicles bought in the UK.