Central Bank of Ireland governor Gabriel Makhlouf has said it is "far, far too early" to discuss cutting rates but said he believed inflation would fall to 2%.
Mr Makhlouf was speaking at a Central Bank of Ireland conference in Dublin, where he and Bank of England governor Andrew Bailey spoke about inflation, instability and emerging technologies.
He said that although there were some differences behind what drove inflation in the UK and the eurozone, he agreed with Mr Bailey's comments on how to tackle it.
"Firstly, it is far, far too early, in my view, to start talking about when are we going to start reducing or cutting rates," Mr Makhlouf said.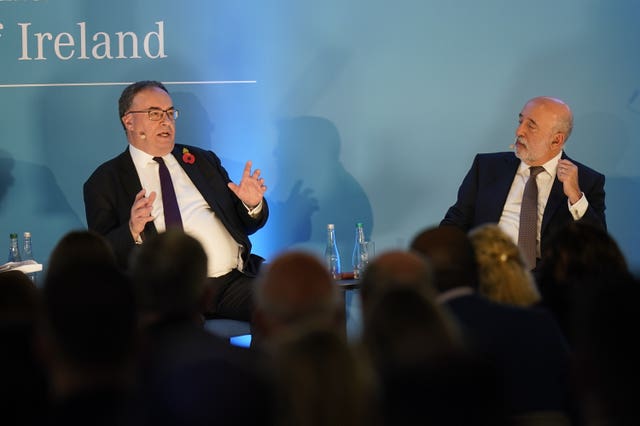 "I also think it's too early to declare, as some have done, that we've sort of reached the top of the ladder, to use the phrase I've been using.
"Certainly in the euro area, I think the next few weeks before our meeting in December will be pretty important and in December we have our next set of projections.
"We will get inflation down to 2%, but the important thing is to be absolutely determined to get there."
Mr Makhlouf said he was not sure when or whether a world of low rates would return.
"I think a lot depends on, there's too many variables A lot depends on, for example, what the role of governments post-pandemic is going to be," he told the financial systems conference.
"I was having a discussion with some colleagues yesterday whether we're actually moving into a world where governments are going to play a much bigger role in economic life."
Speaking to reporters afterwards, Mr Makhlouf said that "we live in very uncertain times" and that there had been an "exceptional" response to the pandemic and the energy crisis caused by the war in Ukraine.
But he said it was "pleasing" to see inflation coming down towards the target of 2%, though he added that "core, underlying inflation remains a challenge".
"But it's a much, much better picture than the opposite."
Addressing comments he made about financial literacy during his address, Mr Makhlouf said that schools should teach financial matters to children to prepare them for adulthood.
He said that financial stability not only relies on regulation, but on customers being informed about what is happening, particularly as new financial innovations are created.
Mr Makhlouf added: "In my view, the world hasn't, or doesn't, invest enough in improving financial literacy and I'm a big believer, for example, that it should be absolutely a core part of the school curriculum.
"I see it as the responsibility of everybody, I see it as a responsibility of the education system wanting to teach, to promote, to help people's understanding of financial literacy – certainly there's a responsibility in the government.
"I think the teaching profession should see it as part of their professional responsibility to help educate our kids into adulthood, and that includes understanding what financial literacy was all about.
"So I think there's obligation on parents, governments, teachers, on everybody to take this subject absolutely seriously, and I'm very happy that the government is putting the focus on financial literacy."