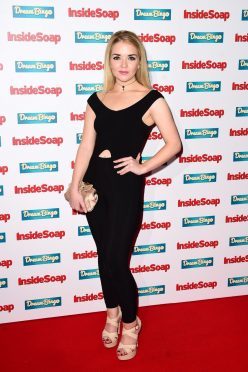 EastEnders fans have been left on the edge of their seats after the Boxing Day episode ended on a cliffhanger following the Branning sisters' fall off the Queen Vic roof.
The pair were rushed to hospital in critical condition after they tumbled from the top of the pub, having ventured up during Christmas Day's show to support their father Max (Jake Wood), who had threatened to take his own life.
Tuesday's episode of the BBC One soap saw the pair's prospects go through a dramatic rollercoaster as Lauren (Jacqueline Jossa) regained consciousness but began to bleed heavily during surgery, and pregnant Abi's (Lorna Fitzgerald) baby was found to be alive, but she was quickly put through an MRI scan.
The incident brought Max and recently returned Tanya (Jo Joyner) together in the hospital. But moments after Max arrived, having been temporarily arrested on suspicion of causing grievous bodily harm to his girls, a sombre-looking staff member said she needed to talk to them about their "daughter".
As the credits rolled, tense viewers took to Twitter in desperation to find out if the news signals the final curtain for either of the characters.
"I can't deal with EastEnders leaving it like that," commented one, while another wrote: "WHAT YOU GOTTA END IT LIKE THIS."
"As if we have to wait until Thursday to find out who dies," commented one fan. "Soooo hope it's not Lauren."
Another similarly added: "Haven't watched #eastenders for 6 months then watch Christmas and tonight's one and am hooked! Hope it's Abi not Lauren @bbceastenders."
One even commented: "I do feel sad if Abi and Lauren do die literally feel like I've grown up with them… I need to get a life it's only a soap #eastenders."
The episode comes shortly after both actresses announced their upcoming departure from the show, leading fans to speculate on what might happen next in the story.
"Abi brain dead I guess or Lauren acc (actually) dead," suggested one.
"I'm guessing Lauren is going to either be dead or paralysed and Abi is brain dead #Eastenders," added another.
Another fan contributed: "I can totally believe they've left it on a cliffhanger Abi or Lauren? Hard to tell, could be both or 1 of them – thoughts say Lauren…But then is Abi brain dead."
The dramatic episode also saw a development in Christmas Eve's saga, which saw devious Max and former lover Stacey Fowler (Lacey Turner) reignite their passion as they fell into a steamy kiss. Stacey confessed the moment of weakness to her husband Martin, just minutes after he told her how much he loved and trusted her.
Outraged viewers rushed to Martin's defence, with one commenting: "Martin is way to good for Stacey. Max is who she deserves #Eastenders."
Another added: "Martin should leave Stacey, she's cheated twice now #eastenders."
However, one more hopeful viewer responded: "James Bye and Lacey Turner are fantastic together on-screen. I really hope they don't split up Stacey and Martin. #EastEnders @bbceastenders."
:: EastEnders continues on BBC One at 8pm on Thursday.