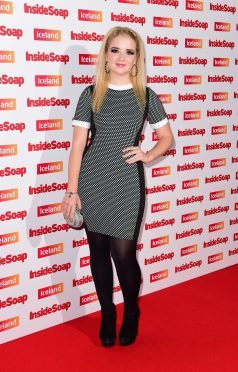 Confusion has broken out among EastEnders fans as the drama following the Branning sisters' fall from the Queen Vic over Christmas mounts.
Hours after being declared brain dead, viewers on Friday night saw doctors successfully deliver unconscious Abi's (Lorna Fitzgerald) premature baby by Caesarean section, placing her straight into the arms of distraught grandfather Max (Jake Wood).
But there was little update on the status of Abi's sister Lauren (Jacqueline Jossa), who was also rushed to hospital after the pair took the tumble from the pub roof together.
Meanwhile, Lauren's mother Tanya (Jo Joyner) has not been seen since her impassioned appearance at the hospital when her daughter was first admitted.
As things remained tense in the ward, most other characters seemed oblivious as they rang in the new year together in the pub.
Viewers worried for the fate of the sisters took to Twitter to ask why they were not being better looked after by those around them.
One tweeted the BBC soap directly, enquiring: "@bbceastenders do you even know what's going on? Where has Tanya gone? How is Lauren? Why are Ben and Jay celebrating in the pub when Abi is dying? Is Abi dead? Has Stacey even rang Jane back? How is the baby ok at 27 weeks? Why was Max at work? #EastEnders."
Pleading for Fitzgerald's character to pull through, another commented: "Can I just ask – where is Tanya? Why haven't jay, donna or ben been to see her? How did that baby get handed straight to Max without intensive care support? Can Abi not die?"
"Okay, I have a few questions about #Eastenders," echoed another. "1) Why is everyone being so nice to Max? 2) Where the hell is Tanya? 3) Why are they acting so calm with that baby when it's two months early?"
One similarly summarised: "So all of Abi's friends are partying while She's is in intensive care, Tanya is on the missing list, Josh isn't at the hospital with Lauren, Adrian is trying to recreate 'Oceans Eleven' and Abi's 27wk baby was just handed to Max for a nice little cuddle. Ok then!! #Eastenders."
With devious Max's future uncertain, another sceptical viewer asked: "Has anyone worked out who is going to look after Abi's baby??"
Both Fitzgerald and Jossa have announced their departure from the show in the new year.
Wood paid tribute to his on-screen daughters by tweeting light-hearted selfies with them during filming for the harrowing scenes.
He posted: "Love these supremely talented young ladies so much… especially when they put up with my inappropriate selfies… Will miss them both at work a lot #eastenders @LornaFitz0 @jacquelineMjos."
EastEnders continues on BBC One at 8pm on Monday.