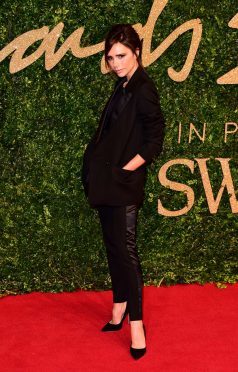 Victoria Beckham has revealed her fun side – and her dance moves – in the new issue of Vogue Spain.
The fashion designer and former Spice Girl said she had "so much fun dancing on set" while modelling for the shoot as she shared the images on Instagram with her 18.4 million followers.
Beckham, 43, first revealed the front cover, on which she sits on a table wearing nothing but a flesh-coloured body suit.
Along with the picture, she wrote: "Thank you @voguespain! Had so much fun dancing on set and loved working with @boo_george_studio and @sarafernandezcastro_."
She added: "This shoot is so different from anything I've ever done."
Another of the pictures from inside the magazine, which were photographed by Boo George and styled by Sara Fernandez, saw Beckham wearing just a pair of briefs with a jumper, and heels.
She joked along with the snap: "When all you need is a pair of heels!"
Beckham wore her own designs for the shoot, including a red midi-dress from her spring/summer 2018 collection that costs £2,250.
She also returned to her pop music roots as she gave her fans a behind the scenes glimpse at the photoshoot, in which she danced in front of the camera to get the perfect pose.
Beckham was quoted by the magazine as saying: "I have grown up in public since I was 19, my days of worrying about what people think have been left behind."