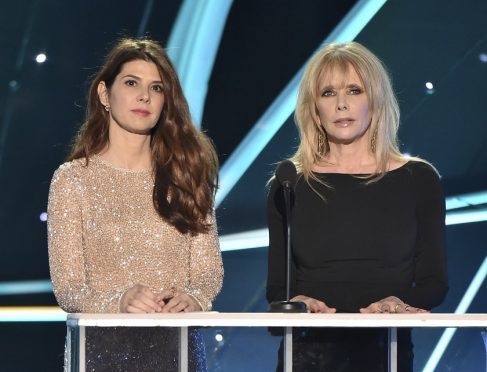 Ashley Judd, Mira Sorvino and Anthony Rapp were among the stars hailed at the Screen Actors Guild Awards for breaking the silence surrounding sexual harassment in Hollywood.
Rosanna Arquette, who was one of the actresses to allege she was harassed by movie mogul Harvey Weinstein, was applauded on stage at the ceremony as she presented an award, accompanied by Marisa Tomei.
The Oscar winner told Arquette: "You are one of the silence breakers and we all owe you a debt of gratitude."
The pair also paid tribute to other accusers, including Asia Argento, Judd and Sorvino, who also made allegations against Weinstein; Anthony Rapp, who alleged he was harassed by Kevin Spacey; and Olivia Munn, who made allegations against Brett Ratner.
Gabrielle Carteris, the actress and president of SAG-AFTRA, the actors union that votes for the awards, also praised the Me Too movement.
Speaking from the stage during the ceremony, she said: "Truth is power and women are stepping into this power. We are in the midst of a massive cultural shift.
"We are, with brave voices, saying me too and advocates know time is up. We are making a difference. You are making a difference.
"It's amazing, change is coming. And we are the agents of that change. Men and women are the agents of that change. We can and we must create an environment where discrimination, harassment and abuse are no longer tolerated.
"Make no mistake this is not a moment in time, this is a movement. And our strength, our strength comes in our unity."
Arquette and Tomei presented the outstanding performance by a female actor in a TV movie or limited series to Nicole Kidman for playing a domestic violence victim in Big Little Lies.
After embracing her co-stars and fellow nominees Reese Withrspoon and Laura Dern, the actress, who said she had been working until 1am and was battling flu, said: "How wonderful it is that our careers can go beyond 40 years old.
"Twenty years ago we were pretty washed up by this stage in our lives.
"That is not the case now, we have proven that we are potent and powerful and viable.
"I just beg that the industry stays behind us because our stories are finally being told."
Kidman, 50, continued: "We have proven we can do this, we can continue to do this but only with support and that money and passion."
Her co-star Alexander Skarsgard won the outstanding performance by a male actor prize for playing her abusive husband.
Sam Rockwell scored the male actor in a supporting role prize for his role as a racist police officer in Three Billboards Outside Ebbing, Missouri, while Allison Janney won the female supporting actor prize for I, Tonya.
Political satire Veep was given the ensemble comedy prize, while star Julia Louis-Dreyfus was named best female actor in a comedy series.
William H Macy won the actor in a comedy series gong for Shameless.