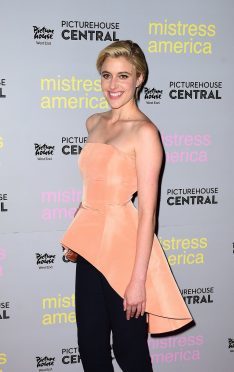 Greta Gerwig has described her Oscar nominations as an "unbelievable honour" as she became only the fifth woman in history to score a best director nod.
The Lady Bird filmmaker, the first female director to be nominated in eight years, also picked up a best screenplay nomination for her semi-autobiographical story about a teenage girl growing up in Sacramento and paid tribute to the film's stars Saoirse Ronan and Laurie Metcalf, who also landed nods.
She said: "This is an unbelievable honour and I am beside myself with joy and gratitude.
"The entire team who made Lady Bird poured their heart and soul into it, and I am so deeply grateful to the Academy for their recognition.
"I couldn't be prouder of my brilliant women who led the cast, Saoirse Ronan and Laurie Metcalf, and I am so thrilled that they were nominated for their beautiful performances.
"I am struggling to find the words to express how much the nomination for best director and best screenplay means to me — in a year where there are so many brilliant films by so many of my heroes of cinema — all I can say is thank you from the bottom of my heart."
Irish actress Ronan, 23, who has received her third Oscar nomination, added: "To have been a part of a film like Lady Bird was a true privilege and I am incredibly grateful to the Academy for recognising this wonderful story about the beauty and strength of women.
"I am especially thrilled to share this moment with Laurie Metcalf and our leader and director Greta Gerwig, who, like Lady Bird, is an incredible woman and a dear friend."
Metcalf, who plays Lady Bird's mother and is nominated in the best supporting actress category, said: "What a morning. I'm thrilled to be recognised with the incredible actresses in my category, and am grateful to the Academy for this amazing honor.
"Congrats to our fearless leader Greta and my 'Lady Bird' Saoirse Ronan for their nominations as well!"
Ronan is nominated in the same category as Sally Hawkins, who landed a best actress nod for The Shape Of Water.
She said: "This nomination is for every single one of us who brought our hearts to this film.
"I am here because of the greatness of others. I stand on the shoulders of giants. Guillermo handed me a gift with this role, this film.
"I am so delighted for us all. To be honoured by the acknowledgement of my colleagues of fellow actors, filmmakers, writers, crew members is truly humbling.
"It is a privilege to tell such stories and to be able to make films that show there is a life beyond the life that people know – one that is not always seen.
"To be considered in this category along side these exceptional women is a real honour and gift in itself. "
Director Jordan Peele said he did an "ugly cry" after his film Get Out received four Oscar nominations.
Peele, who has become the fifth black filmmaker to ever receive a best director nomination, took to Twitter shortly after the nominations were announced to share a gif of the film's lead actor Daniel Kaluuya crying.
Shortly after, he tweeted: "I just spoke to Daniel. You know when you're on the phone trying to disguise the sound of an ugly cry? I failed at that."
He added: "Right now I'm just thinking about everyone who bought a ticket and told someone else to. You did this. Thank you."
Kaluuya was nominated in the actor in a leading role category for his performance in the horror film, which has also received nods for best picture and original screenplay for Peele.
Sam Rockwell, who is nominated for best supporting actor for Three Billboards Outside Ebbing, Missouri, spoke of his pride in being nominated alongside his co-star Woody Harrelson.
Hes said: "I am truly humbled and proud to be nominated alongside Willem, Richard, Christopher, and of course Woody.
"The support for our film has been remarkable and I share this recognition with the entire cast and crew.
"I have been a working actor for a long time and this really means a lot."
Director Edgar Wright shared his delight over his film Baby Driver being nominated in three categories: film editing, sound editing and sound mixing.
The British filmmaker tweeted: "Baby Driver isn't in a genre that often gets mentioned for awards, so to say that my amazing team and I are thrilled with our three nominations is a huge understatement. Am so happy the hard work by my crew has been recognized. Oh and also…
"Even though I didn't write this with Oscars in mind, I do remember saying in an early pre green light meeting at Sony that Baby Driver was guaranteed a best Sound Editing nomination. True!"