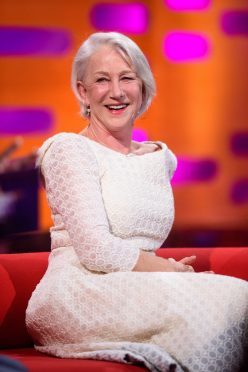 Dame Helen Mirren has said she thinks agents are to blame for the gender pay gap in Hollywood.
The Oscar winning star said changing the culture will be a challenge, but fairer distribution of money is required.
She told Yahoo Movies: "I think the agents were very responsible for this.
"The agents should say 'no, why should she get paid a third of what he's being paid?' But it just became an acceptable part of the culture.
"It's very hard to change a culture when it's a culture. It's really hard to change it."
Dame Helen, who will soon be seen in the ghost film Winchester: The House That Ghosts Built, said she is more understanding of pay disparity when her co-star is higher profile.
Referring to her co-star in Red and Red 2, she said: "Obviously if I'm working with Bruce Willis I know for sure that Bruce Willis is going to be paid a lot more than I am.
"But that's the way that particular cookie crumbles. But if you're in a film where basically you have equal fame, or equal status and your roles are equal size, as is the amount of time each role will take to shoot, then everything else being equal you would hope and expect that you are being paid the same as your male counterpart, but that is often not the case."