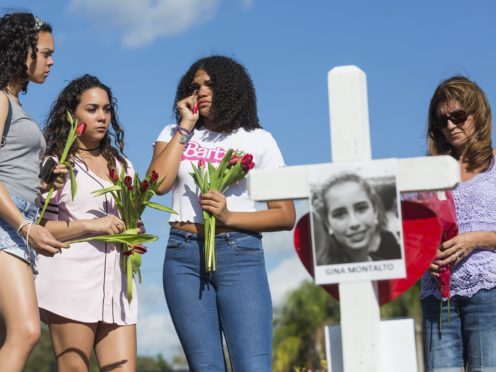 Celebrities have shown their support for students who survived a shooting in Florida as they announced they planned to hold a march in Washington DC to call for more gun controls.
Youngsters from Marjory Stoneman Douglas High School in Parkland told US media they would use the march in the nation's capital to pressure politicians to take action on gun violence.
Speaking on CNN, Cameron Kasky, alongside four other students from the school, said the protest would take place on March 24.
He added: "The reason we are starting March For Our Lives and doing this on March 24 is we have been hearing a lot that this is not the time to talk about gun control and we can respect that – we've lost people, it's important to mourn.
"Here's a time to talk about gun control: March 24.
"My message for the people in office is: You're either with us or against us. We are losing our lives while the adults are playing around."
In response to the impassioned interview, pop star Justin Bieber tweeted: "Cameron good talking to you last night. All of your bravery is amazing. I stand with you guys. #march24 #marchforourlives."
Another student Emma Gonzalez spoke at a rally in Fort Lauderdale over the weekend, firing a warning to US politicians who are supported by the National Rifle Association.
Referencing US president Donald Trump directly, the youngster gave a stirring speech which spread rapidly online.
She told the crowd: "If the president wants to come up to me and tell me to my face that it was a terrible tragedy and how it should never have happened and maintain telling us how nothing is going to be done about it, I'm going to happily ask him how much money he received from the National Rifle Association."
Actress Julianne Moore said on Twitter that the "students will create a 'badge of shame' for politicians who take money from the NRA".
A website set up for the March For Our Lives movement says: "The kids and families of March For Our Lives will take to the streets of Washington DC to demand that their lives and safety become a priority and that we end gun violence and mass shootings in our schools today."
It adds: "March For Our Lives is created by, inspired by, and led by students across the country who will no longer risk their lives waiting for someone else to take action to stop the epidemic of mass school shootings that has become all too familiar."
Mark Hamill appeared to praise the campaign, tweeting: "Children acting like leaders, while our leader acts like a child."
Seventeen people lost their lives in the shooting on Wednesday afternoon.
Nikolas Cruz, a 19-year-old who had been expelled from the school, is facing 17 counts of murder.
Charmed actress Alyssa Milano, who has changed her profile picture to one of the school's logo, posted a link on Twitter to a sign-up page for the march, saying: "Join me on March 24 as we march for our lives."