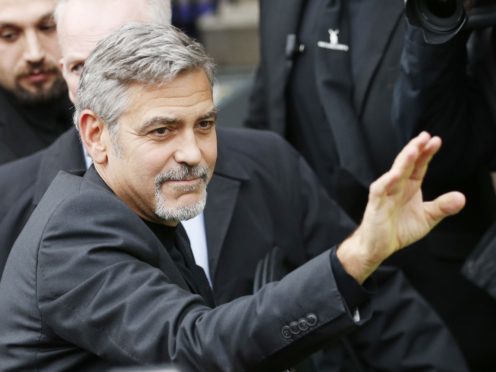 George Clooney and Oprah Winfrey are among the stars who have donated money to students organising protests against gun violence in the US.
Here is a list of famous faces who are backing The March For Our Lives in Washington DC on March 24 following the Stoneman Douglas High School shooting in which 17 staff and students in Parkland, Florida died.
George and Amal Clooney – Dontated 500,000 dollars in the names of their twin babies Ella and Alexander, saying: "Amal and I are so inspired by the courage and eloquence of these young men and women from Stoneman Douglas High School.
"Our family will be there on March 24 to stand side by side with this incredible generation of young people from all over the country, and in the name of our children Ella and Alexander, we're donating 500,000 dollars to help pay for this groundbreaking event. Our children's lives depend on it."
Oprah Winfrey – Donated 500,000 dollars and said: "George and Amal, I couldn't agree with you more. I am joining forces with you and will match your 500,000 dollar donation to March For Our Lives
"These inspiring young people remind me of the Freedom Riders of the 60s who also said we've had ENOUGH and our voices will be heard."
Steven Spielberg and Kate Capshaw – Also donated half a million dollars, telling CNN: "The young students in Florida, and now across the country, are already demonstrating their leadership with a confidence and maturity that belies their ages.
"Kate and I applaud their efforts to take a stand for the benefit of this and future generations. They are an inspiration to us all, and we are joining in this movement with a donation of 500,000 dollars."
Jeffrey and Marilyn Katzenberg – The producer and former DreamWorks CEO matched the 500,000 dollar amount, telling Variety: "Marilyn and I are proud to stand with the brave young leaders from Parkland, Florida, who have taken their pain and grief and turned it into action,.
"We will join Amal and George Clooney on March 24 to stand alongside these remarkable young people. We are also donating 500,000 dollars to March for Our Lives to support this historic event."
Other celebrities offered their moral support to the campaign.
Lady Gaga – She tweeted: "Parkland Survivors and others that are standing up through the media are so brave and are true role models.
"I'm speechless at their courage. And so proud that these kids and young adults are our future. #GunControl #ParklandStudents The question now is will our leaders listen."
Justin Bieber – After speaking to Parkland survivor Cameron Kasky, the singer wrote: "Cameron good talking to you last night. All of your bravery is amazing. I stand with you guys."
Barbra Streisand – She urged fans on social media to increase the pressure on US President Donald Trump to take action. He received fundraising donations from the National Rifle Association during his election campaign.
She tweeted: "You came through big for me (nb $30 million), and I am going to come through for you," @realDonaldTrump said at the NRA convention in 2016. So up the pressure on Donald Trump! #MarchForOurLives #NeverAgain
Bette Middler – She tweeted: "Support these extraordinary and resilient kids! March 24 is the #MarchForOurLives. #NeverAgain"
Reese Witherspoon – She posted on Instagram, writing: "I hope all of our representatives know that The American people expect them to Work the Will of the People. We have had Enough.
We need gun safety laws. NOW. Republicans / Democrats. This is not about partisan politics. This is about our children and our communities and we will vote for people who care about US."