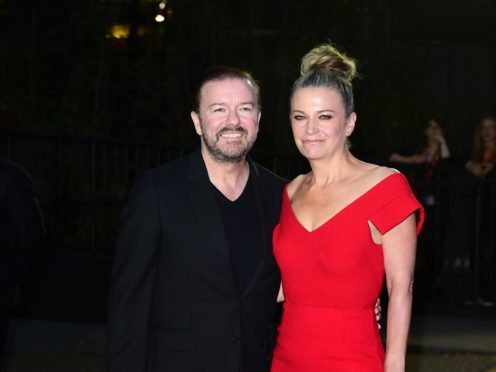 Ricky Gervais took a pop at his partner Jane Fallon for having no friends as she went for a walk in the snow.
The comedian and actor posted a picture of writer Fallon seemingly by herself against a snowy backdrop.
He quipped: "Jane playing in the snow with all her friends."
Gervais was among a number of celebrities sharing posts on social media about the snowfall across the UK.
TV chef Nigella Lawson shared a picture-perfect snap of her back garden coated in the white stuff.
"Snow on the ground, but the sky is so blue today. Cold beauty," she wrote.
Wrapped up warm against the frost in a selfie, presenter Fearne Cotton joked that she was "Betty the yeti".
Scottish comic and Strictly Come Dancing star Susan Calman jokingly offered her services as a snow-clearer.
Along with a picture of herself posing in the snow with a shovel, she tweeted: "Do you need a driveway cleared? Have you low expectations about the quality of service? Do you mind paying for substandard work with biscuits? Then call Calman.
"She's freezing but she has a small shovel."
Posting from her home in Kent, model Kelly Brook revealed she was having some car trouble.
In a video on Instagram, she showed her windscreen wipers battling to clear off the thick layer of snow that had settled overnight, and she wrote to her partner Jeremy Parisi: "Let's do this."
A number of stars shared pictures of their pet dogs in the snow, including Laura Whitmore and Strictly Come Dancing dancer Karen Clifton.
Whitmore, who is away filming ITV2 programme Survival Of The Fittest in South Africa, shared a picture of her dog out for a walk.
She wrote: "Mick going for a walk this morning back in London. Can't wait to come home to this little beast next week – not so sure about the Beast from the East though #mickspics #mickjagger #thebeast #snowday."
Clifton's dog, who she called "Betty the snowflake", looked cute with snow resting on her nose.