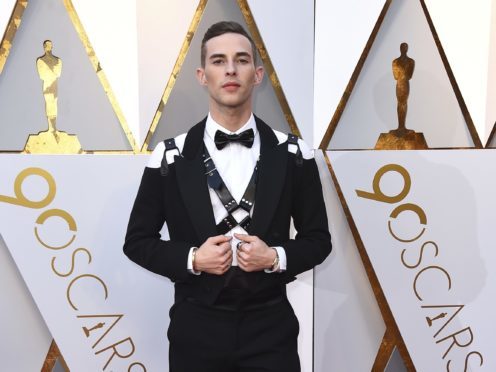 American figure skater Adam Rippon turned heads as he arrived at the Oscars with a leather harness worn across his body.
Rippon, who was one of the few openly gay athletes at the Winter Olympic Games in Pyeongchang, South Korea, donned the striking bondage-inspired Moschino accessory over his shirt and under his suit jacket.
He completed his unique look with a classic bow tie, black trousers and loafers worn without socks.
The 28-year-old, who previously called himself "a glamazon bitch ready for the runway" in a tweet, attended alongside fellow figure skater Mirai Nagasu, who dazzled in a sheer, long-sleeved gown in a soft blue hue.
Supermodel and America's Next Top Model host Tyra Banks was a fan of Rippon's ensemble, as she tweeted: "Hoe, but make it fashion @Adaripp!"
She added the hashtag "#YouAreFierce" by way of support.
Journalist Chris Gardner wrote on Twitter: "This is fact: I witnessed more people greeting these two @Olympics stars, asking for selfies, professing love than any actors or nominees.
"It's already turning out to be great #Oscars for @Adaripp @mirai_nagasu."
One awestruck Oscars fan tweeted a picture of Rippon and simply wrote: "Adam Rippon did THAT. #Oscars #RedCarpet."
Earlier in the day, Rippon had told his fans on his Instagram Story that his outfit was being sewn together 10 minutes before he had to leave for the red carpet.