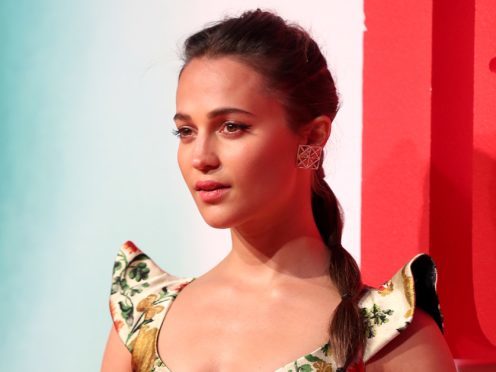 Tomb Raider star Alicia Vikander has revealed she is open to continuing as Lara Croft in any possible future films.
The Oscar-winning actress, 29, takes on the mantle of the action-adventurer in Tomb Raider 15 years after Angelina Jolie last played the character on screen.
Speaking at the European premiere of the movie – where she was joined by actor husband Michael Fassbender on the red carpet – Vikander said any future films depended on the reaction from fans.
She told the Press Association: "We're here to finally release the film but with these films its all about if we have an audience that want more but of course it would be fun to revisit the character."
The story follows Lara leaving her job as a bike courier in London to search for her dead father's last known destination, a fabled tomb on an island.
Dominic West plays the archaeologist father in the origin story which also stars Kristin Scott Thomas, Walton Goggins, Jaime Winstone and Nick Frost.
Vikander has previously said she would have preferred more women in the film and added the industry seemed more open to those ideas now.
"It feels like we live in times now that when you're gonna point that out people are actually gonna listen which is very exciting," she said.
She described the role as "daunting" when producers approached her for the part and revealed she had been training for up to four months to get into shape.
"We wanted to have a more realistic tone to our film, we wanted to make sure all the things she does physically could actually happen, they're plausible.
"I'm quite petite so I looked at female athletes and stunt girls that I worked with and I was like I need to get that physique so I trained for three or four months before we got started," she said.
Producer Graham King echoed Vikander's words on any possibility of a follow-up.
"It all depends on how many people show up and go and see the film right," he told the Press Association.
"I didn't buy this for a one-off so I'm hoping we create a franchise. I don't think we hide what we want to do in the movie."
In 2015 Swedish-born Vikander took home an Oscar win for her performance opposite Eddie Redmayne in The Danish Girl.
Jolie was the first actress to bring the popular video game character to life on the big screen in 2001 with a box office success.
However the film was poorly received by critics as was its follow-up, 2003's Lara Croft Tomb Raider: The Cradle of Life.
Tomb Raider is released in the UK on March 16.