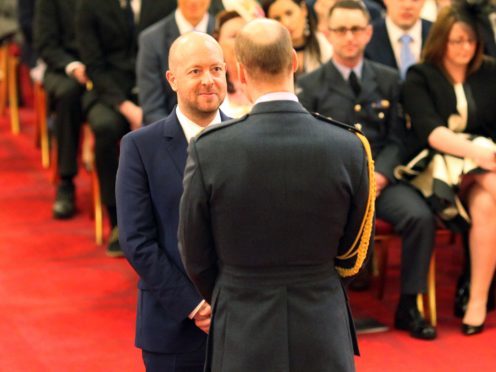 The director of the hit Harry Potter play has spoken of his shock at being awarded an OBE, a title he thought "was never on the cards" because of his working class roots.
John Tiffany, who was decorated for his services to drama at Buckingham Palace, opened Harry Potter And The Cursed Child in London in July 2016, on which he worked closely with the book's original author JK Rowling.
He dedicated the honour to his childhood community in Huddersfield, West Yorkshire.
Mr Tiffany, 47, said: "It's just wonderful.
"Coming from a working class family in Huddersfield, this was never on the cards.
"For the community there, everyone who has supported me, this is for them.
"It's just a great thing for them to see. At the end of the day, we are all made of our teachers. Someone who encourages us. I kind of feel like I am taking this for them."
Despite being a decorated theatre director with awards including a Tony and an Olivier under his belt, Mr Tiffany did not always have his eyes set on the world of drama.
Originally enrolling in university to study biology, he changed to drama and classics six months into his course after being inspired by the City of Culture festival.
He said: "It was 1990 and Glasgow, where I was studying, was the City of Culture. I started to see all this work by directors like Peter Brook and I instantly thought I just want to do this. So I changed course.
"It was terrifying because I only thought you could do drama and music as a hobby where I came from. My dad played in a brass band and my mum was a chorus girl, but the idea of doing that as a job was just terrifying. I just never thought I could – I didn't even know what a director was."
Mr Tiffany said JK Rowling was delighted at the news of his OBE.
"She's a good pal," he said, "and she was over the moon. Last time I saw her was in a Halloween party which she has every year in Scotland – she was over the moon.
"I never ever thought I was in the running for something like this, where as at least with an Olivier or a Tony there is the possibility – but I never thought I was in the running for an OBE."
Mr Tiffany, who was fresh from a flight from New York where the production is preparing to open on Broadway next month, still does not know who nominated him for the title.
He said: "I've asked all the people I thought it could be and they have said it wasn't them. So I have absolutely no idea.
"As a theatre director you never think that you are going to think that anyone at the Palace or Downing Street knows who you are."