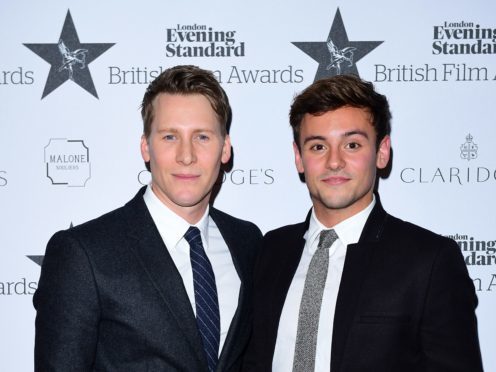 Dustin Lance Black has said he and husband Tom Daley expect to face "legal challenges" to their plans to raise their surrogate child in the UK.
The Oscar-winning screenwriter, 43, said it would be much easier for the couple to raise their baby in his native US.
Appearing on BBC Radio 5 live's Afternoon Edition, Black said: "If I ever wanted to be truly loathed by this nation I would take Tom away from this nation.
"We would like to raise our son here and because of that we are going to face some real legal challenges.
"It would be a much easier path if we decided to raise our son in the US but this country is home for us.
"We will take the more difficult path of raising our son here."
Responding to a listener who said "I don't think two blokes can bring up a child," Black said: "There are all different kinds of families out there in the world.
"Children are raised by single parents all the time. Those children – I'd like to claim myself as one, I was raised by a single mother who raised me incredibly well.
"Will it be important that our son meets women in his life? Absolutely."
Black and Olympic diver Daley, 23, revealed their baby news on Instagram, sharing a picture from the baby scan.
The couple wed last year at an event with 120 guests.