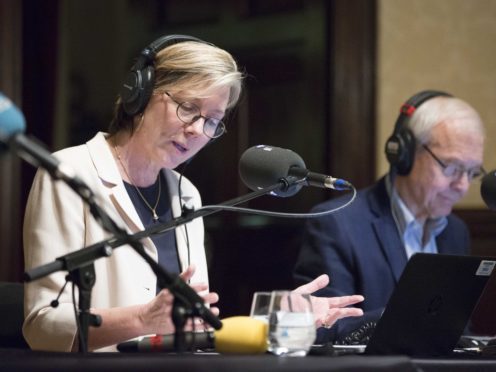 BBC Radio 4 presenter Sarah Montague has said she was "incandescent with rage" and "felt a sap" when she learned she was paid far less than her Today programme co-stars.
The broadcaster has now left Today to become the lead presenter of the radio station's World At One, and she wrote in The Sunday Times that she negotiated a better salary by using "the pay of previous presenters as a guide".
Montague swapped her Today role with Martha Kearney, who was revealed last year to be earning between £200,000 and £249,999.
Writing in the newspaper, Montague said she "hadn't clocked just how professionally damaging it would feel" to know she was earning less than her Today colleagues.
Montague, who was a key member of the hosting team for 17 years, revealed she was paid £133,000, and that it "was a very good wage for a job that I loved".
Salaries revealed by the BBC in July last year showed Today programme host John Humphrys was earning £600,000 to £649,000 for the morning news programme.
Nick Robinson is on £250,000 to £299,000, Mishal Husain is in the £200,000 to £249,000 pay bracket, and Justin Webb earned between £150,000 and £199,999.
After initially thinking she might feel good for "taking less of the licence fee than others", Montague said she "felt a sap" for "subsidising other people's lifestyles".
She wrote that even with her work on BBC World's Hardtalk and other Radio 4 programmes, she did not reach the minimum £150,000 level to be included on the BBC's pay report.
"I had long suspected that I was paid much less than my colleagues but until the pay disclosures I had no idea of the scale of that difference," Montague, 52, wrote.
"Some years ago I was even assured by a manager that I was not the lowest paid on the programme."
Montague, who began her BBC career in 1997 as a presenter on the BBC news channel and has since worked on Newsnight, BBC Breakfast and been a regular presenter of Hardtalk for 20 years, said she also learned that "the true situation was far worse".
"Apart from John Humphrys, I was the only Today programme presenter not on a full staff contract," she wrote.
Montague said she was told to "set up a company" when she joined the BBC, and has not taken in any benefits or accrued any pension.
"Because of that, the pay gap will last my lifetime," she added.
Montague said she is looking forward to concentrating on her new job, but that it is "uncomfortable being in the spotlight" in her current situation.
She said "light, perhaps even total transparency" is needed in order for "organisations such as the BBC to restore trust among staff and ensure the accountability of those setting pay."
Last year, the BBC published a list of its top earners, setting out the pay for staff on more than £150,000, revealing a sizeable gap in the earnings of its most well-known male and female presenters and actors.
A BBC spokeswoman said: "As we've made clear previously, the BBC is committed to closing our gender pay gap by 2020, and the figures show we are already performing better than most other media companies.
"We have also said that we want to introduce a clear and transparent pay framework for the future so everyone working for the BBC can have confidence that they are being paid fairly.
"On PSCs (personal service companies) we have already announced an independent process under the supervision of the Centre for Effective Dispute Resolution to consider cases."