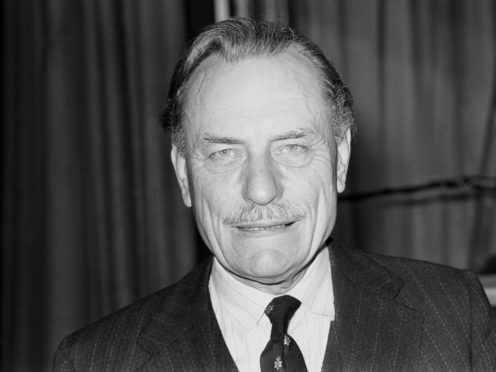 Lord Andrew Adonis has asked Ofcom to intervene and instruct the BBC not to broadcast Enoch Powell's "rivers of blood" speech, which he describes as "incendiary and racist".
The BBC announced the controversial anti-immigration speech from 1968 will be read in full on Saturday for the first time ever, on Radio 4's Archive on 4 programme.
In a letter to Ofcom chief executive Sharon White, Labour peer Lord Adonis called on the media regulator to "instruct the BBC to cancel its proposed broadcast on Saturday of Enoch Powell's infamous 1968 speech predicting 'rivers of blood' and 'the black man having the whip hand over the white man' because of immigration.
"It seems extraordinary that one should have to make the argument in today's Britain that Powell's speech is an incitement to racial hatred and violence which should not be broadcast.
"If a contemporary politician made such a speech they would almost certainly be arrested and charged with serious offences."
Lord Adonis added that the BBC's stance "that this is some kind of artistic enterprise" is an "unsustainable" argument, "particularly in context of the BBC's boast that the broadcast provides a unique opportunity to hear the speech in full".
He said the decision to broadcast the entire speech is "a special tribute to the 50th anniversary of 'rivers of blood'", which he said was "the most incendiary racist speech of modern Britain that was not even broadcast at the time".
Lord Adonis said the matter will be raised in Parliament if the speech is not pulled from the schedule.
The BBC had previously defended its decision to broadcast the speech, saying in a statement: "Many people know of this controversial speech but few have heard it beyond soundbites.
"Radio 4's well established programme Archive on 4 reflects in detail on historical events and, in order to assess the speech fully and its impact on the immigration debate, it will be analysed by a wide range of contributors including many anti-racism campaigners."
The broadcast sees actor Ian McDiarmid read the speech in its entirety, while the BBC's media editor Amol Rajan examines the influence the speech had since it was first delivered to Conservative Party members in Birmingham 50 years ago.
A spokeswoman for Ofcom said: "Ofcom's powers, granted by Parliament, are as a post-broadcast regulator.
"This means that we wouldn't check or approve any broadcaster's editorial content before transmission."