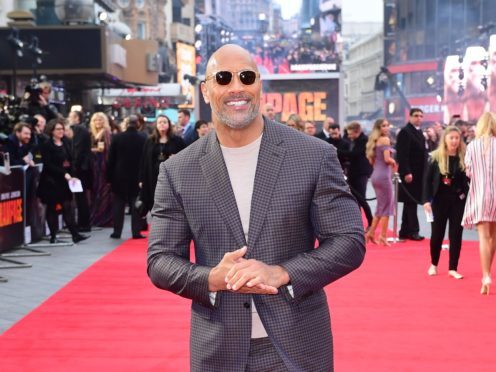 Dwayne Johnson has spoken about how much he enjoys the memes he features in.
The Rampage star, who is still known by his wrestling name The Rock, frequently appears in gifs and viral memes on the internet, including a recent one that shows him performing the hand gestures for a game of Rock, Paper, Scissors.
He told the Press Association: "It's awesome. I love the rock, paper, scissors one, I thought it was ironic and very clever and also in these pictures, I am owning it (doing the hand gestures) like this, like this and then I'm like this.
"I've said this, we have a term internally which is 'If you post it, you're going to get roasted'.
"Me as these memes are just so funny, they are all hilarious, and they make me laugh."
The former wrestler, who is now one of Hollywood's highest-paid stars, added: "I can tell you what has worked for me and the idea of social media has been one of the best, if not the number one best decision that I was able to make in our business.
"I mean that, it just allowed me to have access and have fans access to me that just otherwise I can't do it on any other platform.
"We have relationships in the media with journalists and we have these interviews but that is a very direct thing.
"I also look at that like my relationship with the fans is the most important relationship that I have, outside of my own relationships that I have with my family.
"That is what social media is to me, it's a relationship, so in any relationship you have to cultivate it, you have to work on it, you have to get memed when you screw up, you have to laugh at it, then you have to support each other and you have to motivate each other and inspire each other and then you have got to f*** with each other a little bit.
"It's all those things collectively that makes social media very important to me."
In Rampage, based on the 1980s' arcade game, Johnson plays a primatologist trying to save the world after three contaminated animals start destroying a city.
The action star said: "These movies are big, they are fun, they are popcorn, we are kicking off the summer and I feel like when you hit the tone right you get the calamity and the destruction and then you get the visual things that are visually compelling with these monsters.
"They are just so incredible and then you come in with the humour, you try to make people laugh, maybe every two or three minutes you are trying to find some humour, and then you come in with some emotion, get some tears going and then come back in with some humour.
"It's really a lot of fun and also I think for me it's a homage to movies that I grew up loving, I love these movies, Steven Spielberg and James Cameron movies, movies of the 80s and 90s, it kind of has that feel to it."
– Rampage is in UK cinemas now.