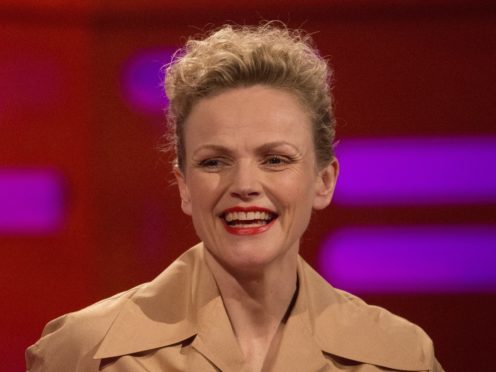 Maxine Peake has revealed her latest film had to have a male star in order to get financed.
The British actress stars in Funny Cow, in which she plays an aspiring stand-up comic on the Yorkshire working men's club circuit.
And in an interview with The Big Issue, Peake said the film would not have been made if her co-star Paddy Considine had not agreed to take part.
She told the magazine: "Ironically, we had to have a male star to get it financed… And that is where Paddy Considine, bless him, stepped up and said he would be in it.
"And he is brilliant. Some actors have an energy that just shines out of them."
Peake, who has starred in Shameless and Black Mirror, was also asked about her career.
She said: "When I started, I just wanted to act. In anything… Now I have to stop and question what I am doing it for. My desire for fulfilment has changed. I want to do stuff I feel invested in.
"But it is a struggle. There are not that many good scripts… I call myself a writer now. That has been a big shift."
The actress, who has previously voiced her support for Labour leader Jeremy Corbyn, criticised Prime Minister Theresa May and labelled the country's immigration policy as "cruel and criminal and it is bullying".
Asked about the housing crisis, she said: "As a society how can you look yourself in the eye when people don't have the basics, like a roof over their heads?
"We should be out on the street – and I don't just mean a nice day out on the South Bank with a placard. It has to be more than that."
Peake also spoke of her recent collaboration with former The Smiths guitarist Johnny Marr.
The pair recorded a spoken-word project entitled The Priest, based on a series of diary entries of former The Big Issue vendor Joe Gallagher, who wrote in the magazine about his experiences of sleeping rough in Edinburgh.
Peake said: "I was looking for first-person narratives on homelessness. I found Joe's diaries in The Big Issue. And it was amazing.
"We had been talking about the homelessness situation in Manchester and how overwhelmed by it we were. It is so heartbreaking and it felt like it was being ignored.
"We got in touch with Joe, he was so open, so blown away by the fact we had done it. But not as blown away as we were by him writing with such eloquence. What an amazing guy."
Peake also revealed she is working on an album with Marr.
She said: "I have been writing words, he is doing the music, and we want to do a live show.
"It is going to be quite an undertaking – we want it quite theatrical."
The Big Issue is on sale from Monday April 23.
Funny Cow is in UK cinemas now.