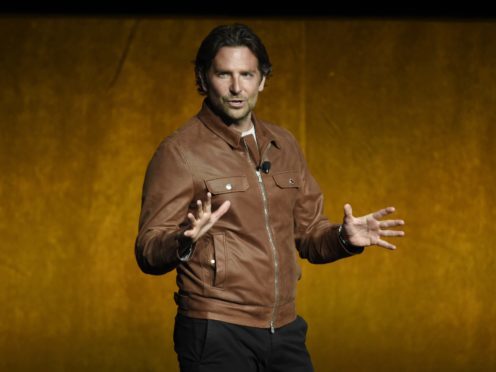 Warner Bros has brought out the big names for its CinemaCon presentation, from stars like Sandra Bullock to movies like Wonder Woman 2, but it was Bradley Cooper's A Star Is Born that stole the show.
Cooper showed the emotional first trailer for the film to conference attendees in Las Vegas to some hearty, and rare, applause from the crowd of cinema owners and exhibitors.
It is the directorial debut for Cooper, who also stars in the film alongside Lady Gaga, who plays the aspiring singer.
This is the third remake of A Star Is Born, which has classic versions with the likes of Judy Garland and Barbra Streisand in the role of the ingenue played by Lady Gaga.
"It's a big swing this movie, I totally get that," Cooper said. "But you can't control what moves you. And I always wanted to tell a love story."
He added that Lady Gaga is "kind of a revelation in this movie".
The film is three years in the making and features live singing on real stages at festivals like Glastonbury and Coachella. It hits cinemas on October 5.
Warner Bros teased a massive slate of films, stressing the diversity of their line-up, of "event films, DC tent-poles, animation, first class dramas, elevated horrors and comedies".
"We love making all types of movies for all types of audiences," said Warner Bros Pictures Group chairman Toby Emmerich.
Actor Will Arnett moderated the lively presentation, riffing with Aquaman star Jason Momoa about whether the famously muscled star will "ever do a movie with his shirt on", and other stars like the women of Ocean's 8 and the cast of Crazy Rich Asians.
The studio showed new, unfinished footage from James Wan's Aquaman and also teased new details about a few anticipated sequels in video segments featuring Wonder Woman director Patty Jenkins, who says the sequel will be set in the 1980s and shows Wonder Woman struggling with the "temptations of our world", and It director Andy Muschietti, who says Chapter 2 will be scarier and more intense.