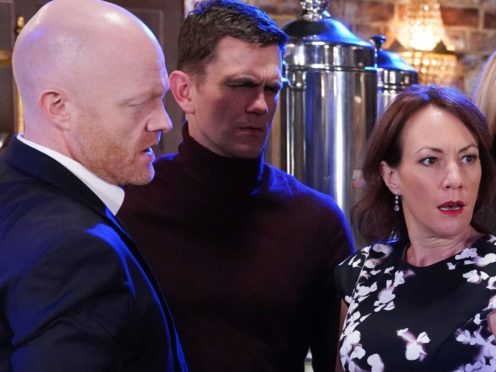 The marriage between Max Branning and Rainie Cross has been revealed to be a sham.
EastEnders fans were shocked on Tuesday when it was revealed Max (Jake Wood) got married to his ex's sister, played by Tanya Franks.
But in Friday's episode it emerged the union is a sham to allow Max to get hold of the baby of his dead daughter Abi.
In an aggressive confrontation between the pair after a visit from a social worker, Max told Rainie: "You're a crackhead loser who is going to mess everything up for me and Abi, unless you sort yourself out.
"Don't you understand? I need everyone around here to think I'm happy and settlied and living in domestic bliss."
He added: "I married you Rainie, it's a business deal, business.
"You listen to me. You ain't going to get a penny, not if I don't get Abi.
"So from now on you had better start working a damn sight harder."
One fan wrote on Twitter: "Every time that I think that Max has changed to a good man, he always surprising me. He is using Rainie."
Another wrote: "I just knew max & rainie was too good to be true. That was a good ending. Eastenders is getting back up top."
Another viewer added: "I can see this 'business deal' going horribly wrong very quickly."
EastEnders continues on Monday at 8pm on BBC One.