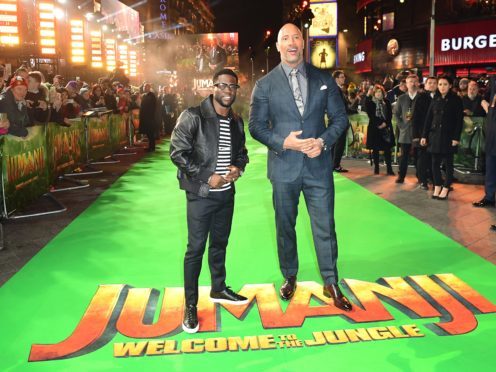 Hollywood star Dwayne "The Rock" Johnson has poked fun at his Jumanji co-star Kevin Hart by photoshopping Hart's face on to that of his newborn baby's.
Johnson and his partner Lauren Hashian welcomed a daughter last week and the muscled actor, 45, posted a picture on Instagram of him with his chest bare holding newborn Tiana.
Re-creating the moment with Hart's face placed on baby Tiana's, Johnson wrote on Instagram: "To my beloved son, @kevinhart4real. Twinkle Twinkle little Hart. I just don't know where to start. Daddy will always love and protect your tiny little soul. Even though you were delivered directly out of the butthole. #Shhhh #JustShutYourLittleMouth #AndGoNightNight #OnDaddysPecMeat".
Hart responded by sharing the photograph mash-up and writing: "The Internet will forever be undefeated 😂😂😂😂😂 This is hilarious as hell 😂😂😂😂😂".
The acting duo have been friends for years and often share their many "bromance" moments on social media.
Johnson has also affectionately referred to Hart many times as the "snack size Denzel", a reference to Hollywood star Denzel Washington.