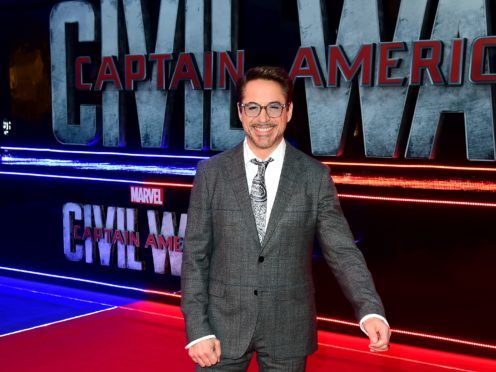 Robert Downey Jr has revealed that five out of six of the original Avengers have got matching tattoos.
The Iron Man star shared a video of himself being inked with the Avengers logo, as well as him preparing to tattoo the artist who worked on them.
He told entertainment magazine Entertainment Weekly: "Five of the original six Avengers got a tattoo.
"And the sixth was the tattoo artist, who gave it to five of us, the one who opted out being Mark Ruffalo. It was (Scarlett) Johansson's idea, and she and (Chris) Evans did it in New York.
"Then, their New York guy, Josh Lord, who is amazing, flew out to LA, he did me, did (Jeremy) Renner, and then we just bullied (Chris) Hemsworth into doing it, and he got it.
"And each one of us drew a line on the artist with his own tattoo gun and it was a total massacre.
"Each of us contributed to giving the tattoo artist the sixth tattoo that he designed for us.
"By the way, he's got another one on him that Scarlett did, which is beautiful, which is crazy, because the line she drew on him, which was just supposed to be a straight line, looked like a lightning bolt. It was a mess."
The Iron Man actor, 53, shared a series of photos and videos on Instagram Monday showing off the new body art.
In the video of him preparing to tattoo Lord, Downey Jr can be seen wearing a head torch and asking "where is my practice run?"
He captioned the Instagram post: "@avengers part 1… They say it's better to give than to receive …"
Of the video of himself being tattooed, he wrote: "@avengers part 2… But on this night receiving was just as sweet … Thank you @joshualord on behalf of all of us."
He also shared a video of the finished tattoo, saying: "That, sir, is very very nice."
The Avenger also shared a video of himself with Hemsworth, Renner, Johansson and Lord, telling Evans: "Hey Chris, we wish you were here dude."
He captioned it "And last but certainly not least to the #firstavenger my brother #ChrisEvans Now we are one…"
Avengers: Infinity War has broken box office records. It is released in UK cinemas now.