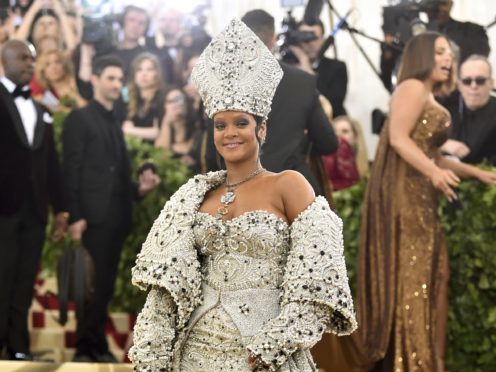 The stars have arrived on the red carpet for this year's Met Gala.
The Met Gala is one of the highlights of the fashion calendar and this year it has a religious theme – Heavenly Bodies: Fashion and the Catholic Imagination.
And superstar Rihanna, who will co-chair the event alongside Amal Clooney, Donatella Versace and Vogue editor Anna Wintour, lived up to the dress code, wearing a diamond-encrusted papal-inspired outfit complete with mitre.
Amal also turned heads when she arrived alongside husband George.
The human rights lawyer wore a rose-patterned skirt-and-trousers look designed by British designer Richard Quinn.
The skirt was so long George reportedly joked that the couple's newborn twins were "hiding underneath".
Elsewhere, model Bella Hadid wore a leather and PVC gown complete with a gold cross around her neck, a nod to the night's religious theme.
Singer Katy Perry stood out among the famous faces by wearing her own set of angel wings.
And Donald Glover, who has been widely praised following the release of his music video for the song This Is America, was pictured wearing a smart tuxedo on the red carpet.
The Met Gala is one of the highlights of the fashion calendar, and in the build-up to the event stars were sharing their excitement by posting throwback photos of their previous outfits.
The fundraiser for the Metropolitan Museum of Art's Costume Institute in New York City, chaired by Wintour, attracts a litany of big stars and takes place on the first Monday of May every year.