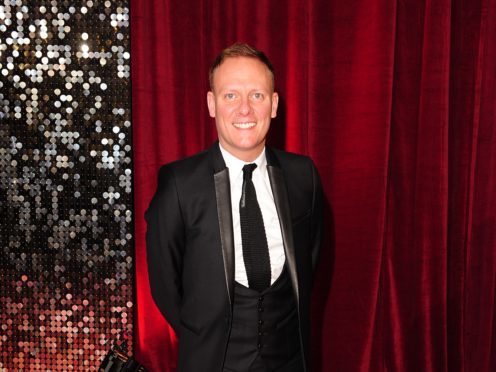 Coronation Street star Antony Cotton has said Kylie Minogue looked "fantastic" as she celebrated her 50th birthday at a star-studded bash.
The soap actor joined the likes of David Walliams, Amanda Holden and Graham Norton at the pop princess's milestone birthday on Sunday night.
The glitzy party took place at London's Chiltern Firehouse, with Rick Astley among the performers.
Cotton – who was caught on camera tripping into a taxi as he left the party – said it was "one of the best parties I've ever been to".
He told ITV's Lorraine: "She looks fantastic. It was beautiful, nothing on social media, no-one posted anything, it was really, really private.
"I don't want to talk about it because it was beautiful and perfect and amazing and it was the most divine night … right up until the end until I tripped up head-first into a cab."
He added: "Anyway … a good night was had by all. She's divine and I adore her."
Minogue – whose 50th was on Monday – shared a snap of her kissing her rumoured new love interest on Monday evening.
She captioned the post "birthday girl" as she kept the details of the man under wraps.