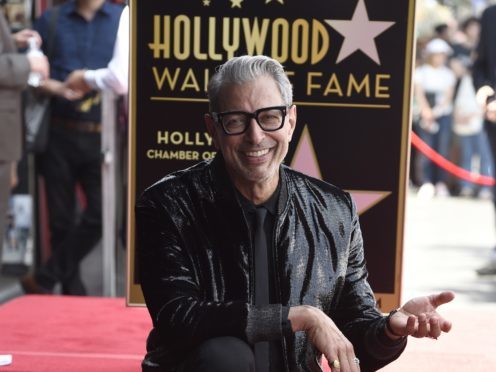 Jeff Goldblum was described as "deeply moral" and a "wonderful friend" as he was honoured with a star on the Hollywood Walk Of Fame.
The American actor, known for starring in the Jurassic Park franchise and Independence Day, was joined by speakers Norm Eisen and Ed Begley Jr at the ceremony in Los Angeles on Thursday while his wife and children watched on.
Goldblum, 65, showed his gratitude to the people he had worked with throughout his career as he became star number 2,638 on Hollywood Boulevard.
He said: "Thank you so much … to every crew member of every play or every television show or movie I've ever done in the past, so many of whom still fill me with starstruck amazement, I am so lucky and grateful.
"Directors, how about this bunch of people I've been lucky enough to work with, too numerous to mention but early on Robert Altman, who put me in a few movies … the genius Steven Spielberg and Wes Anderson, a man of real dignity and honour. I love all of those people."
Goldblum, who stars in Jurassic World: Fallen Kingdom, the latest film in the dinosaur franchise, turned to his wife, the former Canadian Olympic rhythmic gymnast Emilie Livingston and told her: "You are my soulmate, I fall in love with you more deeply every single day. You're my teacher, you're my partner."
His two sons, Charlie Ocean, two, and one-year-old River Joe were seated yards away with their mother.
Goldblum told them: "Everyday you fill me with a full measure of wonderment and respect and deep, deepest admiration. I love your bones. You might see this later, in years to come. You may not understand it now but I love you deeply, deeply, deeply."
Goldblum finished with a quote from Irish playwright George Bernard Shaw, which said: "Life is no brief candle to me, it's a sort of splendid torch which I have got hold of for the moment and I'm going to make it burn as brightly as possible before handing it on to future generations."
Before the star was unveiled, Goldblum's friend Eisen praised the actor as "deeply moral" and a "wonderful friend".
Eisen was the ethics Csar under Barack Obama as well as the inspiration for Goldblum's character in the 2014 movie The Grand Budapest Hotel.
He said: "Jeff, I am so proud of you. You exemplify all that is great, not just about this city, Hollywood, about the film industry, as an actor, but as a human being, so I join everyone here in congratulating you. We love you."
During his acceptance speech, Goldblum appeared to take a subtle dig at President Donald Trump, saying of Obama and Eisen: "Two great, great men who I miss every single day in their former, formal positions of leadership. For their intelligence and moral leadership and eloquence and pristine honesty. I miss you every single day."