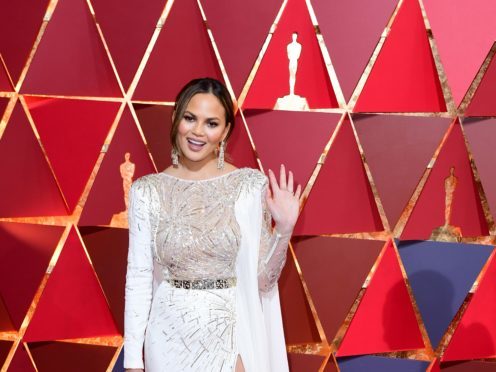 Chrissy Teigen has said she is "super insecure" as she shared a video of her post-pregnancy body with fans.
The model and TV presenter gave birth to Miles Theodore in May, her second child with singer husband John Legend. The couple also have a daughter, two-year-old Luna.
On Monday, Teigen, 32, tweeted a close-up video of her stomach and said, "I guess these just aren't going to go away. This is my new body".
The video was captioned: "Mom bod alert!"
She then shared a picture of herself topless, covering her chest with her arm and kissing Legend.
Teigen followed the video and picture with tweets to her 10 million Twitter followers.
She wrote: "Instagram is crazy. I think it's awesome people have killer bodies and are proud to show them off (I really do!!) but I know how hard it can be to forget what (for lack of a better word) regular ol' bodies look like when everyone looks bonkers amazing.
"Also I don't really call this 'body confidence' because I'm not quite there yet. I'm still super insecure. I'm just happy that I can make anyone else out there feel better about themselves!"
Teigen, who is known for her light-hearted approach to social media, signed off with: "ok back to being stupid!"
The star has been open about her insecurities in the past and in August last year admitted she had cried because of how she looked.
She married Legend in 2013.