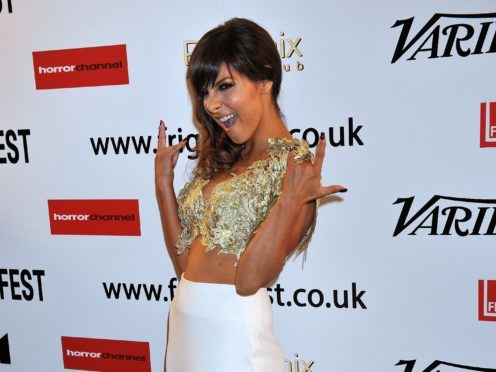 Former Emmerdale star Roxanne Pallett has revealed she became engaged to her partner after just one week of dating.
The actress unveiled her "crazy" speedy engagement weeks after being involved in a crash at a stock car racing track.
Pallett, 36, and steel worker Lee Walton, 40, first met online in summer last year and bonded through their shared love of Elvis Presley.
They met in person for the first time in December and, one week later, Mr Walton asked Pallett to marry him in a spontaneous proposal that did not include an engagement ring.
The pair got matching tattoos on their ring fingers and Mr Walton has since saved some money to buy the star a ring, which she wears on her right hand so as not to hide the inking.
Following the crash in mid-July, which saw Pallett airlifted to hospital, he proposed again with the ring.
Mr Walton told OK! magazine: "She was getting ready and dancing and I said 'I could get used to this. Move in with me?' She agreed and on our first night living together I was looking at her, thinking 'God I love you'. And then I just said 'Will you marry me?'"
Pallett, who is best known for starring as Jo Sugden in Emmerdale from 2005 until 2008, said: "We were engaged within a week of meeting! I know it sounds crazy, but I knew my heart."
Explaining how they found each other online, Mr Walton told the magazine: "I was searching #ElvisPresley because I'm a massive fan and I saw her (Roxanne's snap in Graceland) post.
"I recognised her from when I used to go round to my parents' place every Friday night. My dad is a big Emmerdale fan so he'd always have it on, and Roxanne stood out. I'd see her in magazines and she always caught my eye.'
After they got to know each other, they finally met, and Pallett said: "When I walked into the pub and saw him I thought 'Oh my God, you're real'. I just flung my arms around him and it was like we'd been together forever. We were kissing within five minutes!"
Mr Walton added: "I couldn't look her in the eyes because she was the most beautiful thing I'd ever seen."
Pallett later took to Twitter to share a picture of the pair of them together, where she showed off her sparkling ring.
She wrote: "He asked … and I said hell yeah!"
Pallett cited her romance as the thing that has kept her going in recent weeks following the accident, which left her with sprained wrists and internal bruising after the stock car she was driving crashed into a concrete wall.
The crash happened on July 19 at the Hunmanby Raceway in North Yorkshire while she was filming a promotional video for her Minster FM breakfast show.
"It feels like my whole body is a jigsaw puzzle that's been shaken in the box," she said.
"I'm on painkillers and having to take things slowly, but my relationship has kept me strong."