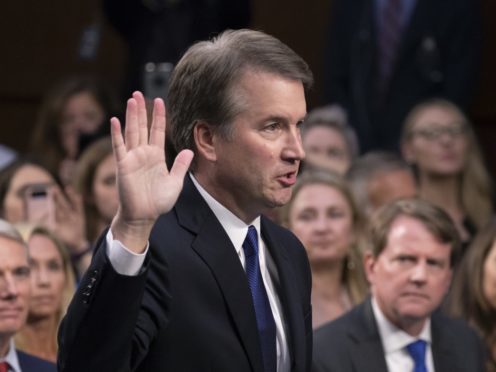 Celebrities including Jane Fonda and Mandy Moore have joined calls for Donald Trump's Supreme Court nominee Brett Kavanaugh to step aside following allegations of sexual misconduct.
Two women have accused Mr Kavanaugh of inappropriate behaviour decades ago, which he denies.
Christine Blasey Ford alleges the judge assaulted her at a party in 1982 when they were teenagers while Deborah Ramirez said he exposed himself to her at a Yale dormitory party during the 1983-84 academic year.
Mr Kavanaugh, whose nomination to the US' highest court now hangs in the balance, said in a television interview on Monday that he will not "let false accusations drive us out of this process".
Opposition to the appointment is growing and the Time's Up movement called for a nationwide walkout in the US on Monday to show support for Mr Kavanaugh's alleged victims and later demanded he withdraws his nomination.
The calls have been echoed by numerous celebrities.
Veteran actress Fonda tweeted: "Crowds are gathering at the Capital. We stand in solidarity with Dr. Christine Blasey Ford. #BelieveSurvivors #TIMESUP."
Moore shared a picture of herself to Instagram, along with the caption #believesurvivors.
Scandal actress Kerry Washington said: "Women must be heard. Today I am wearing black in solidarity with Dr. Christine Blasey Ford. #BelieveSurvivors #TIMESUP #StopKavanaugh."
Debra Messing revealed the stars of Will & Grace walked out on set. She shared an image of stars including David Schwimmer and Eric McCormack supporting the movement.
Messing captioned the pictures: "We walked out at 10am to show Solidarity with Survivors."
And Star Wars: The Force Awakens director JJ Abrams wrote on Instagram: "#BelieveSurvivors #TimesUp."
On Monday, Mr Kavanaugh again denied sexually assaulted anyone.
Kavanaugh told Fox News he has "always treated women with dignity and respect".
Mr Trump tweeted to say the Democrats "are working hard to destroy a wonderful man… with an array of False Accusations the likes of which have never been seen before".