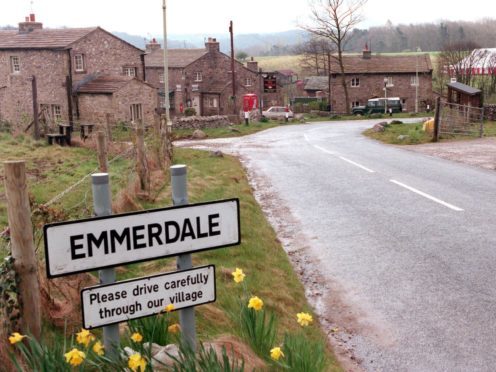 An episode of Emmerdale starring only female cast members and created by women will air on International Women's Day next year.
The one-off special will follow other landmark broadcasts from the ITV soap, including a flashback episode around a character being abused as a child, and another shown from the perspective of a dementia sufferer.
Emmerdale's executive producer Jane Hudson said the episode will air on March 8 next year, in honour of the global event celebrating women's rights, because the show has two female producers and a female executive producer.
Speaking at a press event for the programme, Hudson said: "I think it's the first time a soap has had an all-women team.
"It is International Women's Day, so what we want to do for that episode is to have it produced by a female, written by a female, directed by a female, and the entire cast will be female, including all the background artists.
"And we will have almost an entire female crew."
Hudson, who took over Emmerdale in June after being ITV's drama commissioner, joked: "The men are loving it.
"What they don't realise is that we're going to give some of our males the traditional female roles for the day, so we'll all be bringing our kids in."
She added: "We're really excited about this, and really proud to be doing it, and to recognise International Women's Day."
Hudson also teased upcoming storylines for the programme, with a wedding taking place at Christmas between two mystery characters.
"Let's just say, it will bring a different flavour to the village that you wouldn't normally have in Emmerdale," she said.
"We will be sending Paddy and Marlon off on a little adventure next year around February time, one of them will make quite a big discovery.
"We also have a proposal coming up next year for two of our characters, it'll be very romantic."
Hudson added: "We have got a huge rift coming up in the Dingle clan, which is going to absolutely blow apart two of our most-loved characters, and who knows if they will ever get back to where they used to be."