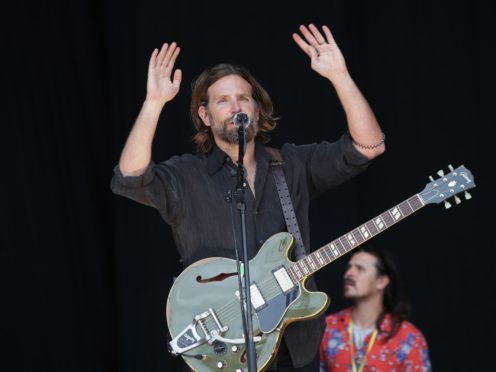 Bradley Cooper has hinted that he might perform at Glastonbury again, following his surprise appearance last year as his character from A Star is Born.
The actor, who also made his directorial debut with the film, said he would love to return to the music event, but as himself and on a smaller stage.
Singer-songwriter Kris Kristofferson brought Cooper, in character as Jackson Maine, on stage with him for a surprise performance at the event's Pyramid Stage in 2017 to shoot scenes for A Star is Born.
Cooper told Edith Bowman on her Soundtracking podcast that he has since spoken to Glastonbury co-organiser Emily Eavis and her husband Nick Dewey about playing a six-song set on the smaller Park Stage.
Asked whether he would perform as Jackson again, Cooper said: "He's gone, Jackson, he's gone.
"There is nothing I would want more than to watch me try and do it.
"I did speak to Nick and Emily the other day, maybe we could pop up on the Park Stage and maybe do six songs. That would be the only thing I would maybe do.
"But we wouldn't announce it even … though I'm talking about it now with a microphone in front of my mouth."
Cooper plays singer-songwriter Jackson in the tragic love story, which was released last weekend to positive reviews.
A successful performer and troubled addict, he meets and falls in love with Ally, a struggling artist playing to empty rooms, portrayed by Lady Gaga.
The two fall in love but as Ally's dream takes off, the couple face challenges in their relationship.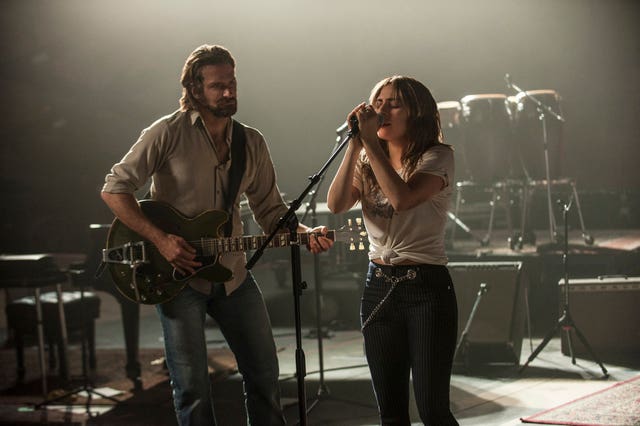 Cooper also said that he had taken advice on developing his character in the film from a number of high-profile friends, including Noel Gallagher, Pearl Jam singer Eddie Vedder and Tom Waits.
He said: "I spent time with Noel Gallagher and asked him thousands of questions and watched him play."
Bowman replied: "Surely he's just a bad influence?"
Cooper said: "So, I didn't listen to anything he had to say. But what is wonderful about him is he will tell you exactly what he thinks.
"And that's what you demand when you are trying to create something. It's going to get out there eventually so just tell me the truth.
"Eddie Vedder was invaluable, I spent three days with him in Seattle and I would text him questions all the time.
"I also had a great conversation with Tom Waits, I had one phone call with Tom Waits that I got a lot of out of. I can't remember what I asked him but he was kind enough to speak to me for an hour."
Edith Bowman's Soundtracking podcast is available now.