A drama that tackles the vicious cycle of sex trafficking in modern Europe has won the best film award in the official competition at the BFI London Film Festival.
Joy follows a young Nigerian woman, who works the streets to pay off debts to her exploiter while supporting her family in Nigeria and hoping for a better life for her young daughter.
The film, directed by Sudabeh Mortezai, was praised as "a provocative and unique film offering a devastating portrait of human resilience in the most inhuman of environments," by jury president and director Lenny Abrahamson.
The official competition jury also gave a special commendation to Birds Of Passage, directed by Cristina Gallego and Ciro Guerra.
Girl, directed by Lukas Dhont, won the Sutherland award in the first feature competition.
The film has been selected as the Belgian entry for the best foreign language film at the Oscars and tells the story of a transgender teenager who dreams of becoming a ballet dancer.
What You Gonna Do When The World's On Fire, a documentary by Roberto Minervini that follows a Louisiana community during the summer of 2017, in the aftermath of a string of police shootings of black men, won the Grierson Award in the documentary competition.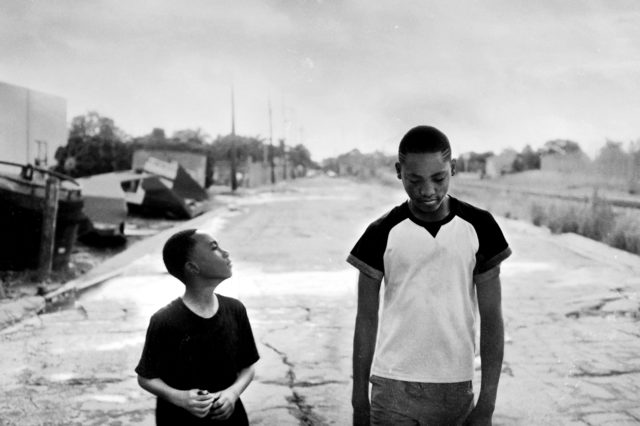 Meanwhile Lasting Marks, a short documentary by Charlie Lyne about 16 men put on trial for sadomasochism in the 1980s won the short film award.
Tricia Tuttle, artistic director of the festival, said: "The 2018 LFF Awards nominations demonstrate the vibrancy of global filmmaking and I'm delighted for the winning filmmakers who have triumphed at the 62nd BFI London Film Festival.
"After much jury deliberation, our wonderful juries have selected four extraordinary films which encourage dialogue and understanding around issues of race, class, gender and sexuality.
"I applaud Sudabeh, Lukas, Roberto and Charlie for their boldly distinctive work and hope that our awards can help focus even more attention from UK and global audiences on their truly deserving films.
"For the first time, we've also placed audiences at the very heart of the awards celebration and I'm thrilled to be presenting the winners to packed houses of adventurous filmgoers."