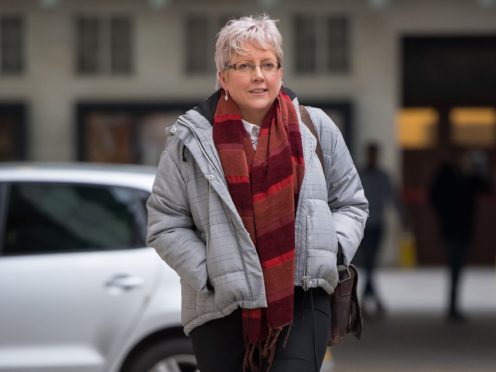 The lawyer who represented former BBC China editor Carrie Gracie in her salary dispute with the broadcaster has said women are "left in the dark" about their pay and face an ongoing battle against discrimination in a chaotic system.
Gracie stepped down from her role in January following revelations about a gulf between her salary and that of other international editors.
A Digital, Culture, Media and Sport (DCMS) Committee inquiry was launched in the wake of the resignation, and MPs have concluded a culture of pay discrimination exists at the BBC.
Jennifer Millins, who represented Gracie in her pay dispute, has said millions could be paid out in compensation to unfairly treated workers at the BBC who have lived with "injustice and discrimination" for years.
The lawyer has said BBC audits and internal reports have not explained away the problems with pay equality at the publicly-funded broadcaster.
Ms Millins, who works for law firm Mischon de Reya, said: "Women continue to be left in the dark about their pay and have no trust in the chaotic, bureaucratic internal processes.
"These findings, which include shocking evidence from BBC employees of all levels, would likely be compelling evidence in any discrimination or equal pay litigation against the BBC.
"Compensation in the employment tribunal could run into many millions of pounds, and could be increased by up to 25% as a result of the BBC's failure to deal with grievances swiftly and fairly."
A 2007-2012 personal service company policy, which entailed employees forming their own businesses then being paid by the BBC without sick pay or other benefits, has also been criticised in the DCMS report.
For Ms Millins, they are another "injustice" inflicted on loyal BBC employees by the corporation. She added that alleged attempts to whitewash the problem of pay discrimination have failed.
She said: "The report also marks a significant step forward for the second group of BBC staff who have suffered 'life-altering financial and personal consequences' as a result of the BBC's policy of engaging presenters through personal service companies – a policy that the BBC has denied.
"The organisation could face another huge bill if it is to bear presenters' liability for unpaid NICs (national insurance contributions). The BBC recently reported that it had spent considerable sums on external consultants and advisers, some of which went to produce three audits trying to explain away the BBC's equal pay problem.
"The report sees through these self-serving audits, preferring to rely on the clear and compelling evidence of those BBC staff who have lived this injustice and discrimination for many years now and who nevertheless continue to provide dedicated service to the corporation.
"The equal pay scandal at the BBC has shone a spotlight on the broader issue of unequal pay. The BBC now has an opportunity to begin to correct this by adopting the report's recommendations without delay.
"The reputational fallout for further denial and delay could be catastrophic."
The alleged delay in taking action on pay parity at the BBC has been labelled as "offensive" by shadow chancellor John McDonnell.