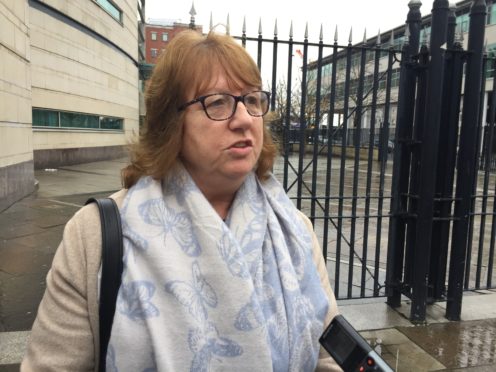 A daughter of a mother of eight killed in shootings involving British soldiers has expressed hope that a long-awaiting inquest can deliver truth and exoneration.
Briege Voyle's mother Joan Connolly, 44, was one of 10 people killed in gunfire during three days of shootings in the Ballymurphy area of west Belfast in 1971.
Fresh inquests investigating an episode bereaved relatives refer to as the Ballymurphy Massacre will commence in Belfast next week.
In 2011, Northern Ireland's Attorney General John Larkin directed that new inquests be heard after a long campaign by family members, who claimed the original coronial probes in the aftermath of the shootings were inadequate. After a final preparatory hearing in Belfast on Monday, when coroner Ms Justice Siobhan Keegan confirmed the inquests would proceed as scheduled, Ms Voyle admitted to mixed feelings.
"It's very scary to be honest with you – we've waiting this long for it to come, it's a wee bit hard to believe that it's actually happening, but at the same time we are just so glad that it's here," she said.
"We think that after 47 years we are going to get some form of truth."
A Catholic priest was among the 10 fatally injured in the shootings involving members of the Parachute Regiment.
Another man died of a heart attack following an alleged violent confrontation with the troops in the west Belfast estate.
The shootings took place as the Army moved in to republican strongholds to arrest IRA suspects in the wake of the introduction by the Stormont administration of the controversial policy of internment without trial.
Soldiers have long been held responsible for killing all 10 people in Ballymurphy between August 9-11 1971, but the accepted narrative became clouded earlier this year when former members of the paramilitary Ulster Volunteer Force came forward to claim their organisation was also involved.
Ms Voyle said the onus was on the Ministry of Defence to be candid in the coroner's court.
"At the end of the day our loved ones were innocent, we know they were innocent, we just need them to come in and tell the world that they are innocent," she said.
"We hope the whole truth will come out."
Ms Voyle noted that the shootings had robbed 37 children of a parent.
"We have had to live with the stigma of it," she added.
"When they said my mummy was a gun woman they basically labelled our family as well, and we had to live with that, so hopefully when we get into court the truth is told that our loved ones were innocent."
Opening statements in the inquests will be heard next week, followed by personal statements from relatives of those who died. Evidence in the first inquest will be heard in the week commencing November 28.