A new exhibition will explore how Charles Dickens used food as social commentary, and how childhood hunger shaped his political views.
Food Glorious Food: Dinner With Dickens will run from November 28 2018 to April 22 2019 at the Charles Dickens Museum in London.
It will celebrate the way the famous English writer and essayist used food and drink to explore the lives of his characters in books like A Christmas Carol and Hard Times.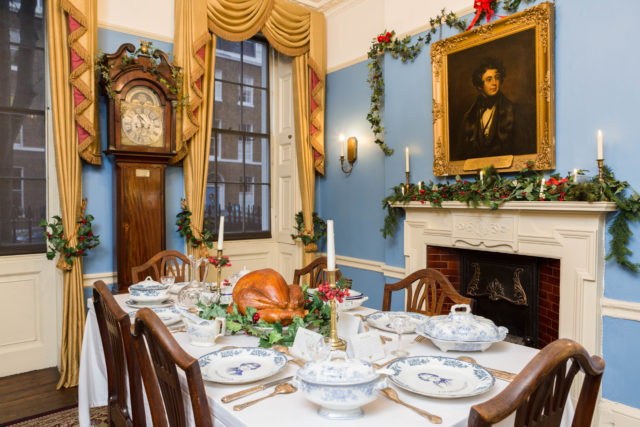 The exhibition will be held at his former home at 48 Doughty Street in Bloomsbury, London, where he lived with his family and held "party after party" with invitations that would have been "impossible to refuse", according to curators at the museum.
The collection will also explore how Dickens' lasting memories of childhood hunger made their way into his stories, like in the book Oliver Twist where the eponymous boy famously said: "Please Sir, I want some more."
The exhibition will include a silver fruit bowl given to Dickens in 1870 by a reader and a letter, written by novelist Elizabeth Gaskell in 1849, describing a dinner at Dickens' townhouse.
It reads: "There were some nice little Dickens' children in the room, who were so polite, and well-trained.
"We came away at last feeling we had seen so many people and things that day that we were quite confused; only that we should be glad to remember we had done it."
Louisa Price, curator at the Charles Dickens Museum, said, "The exhibition will show that, when it came to parties and social events, Dickens had an eye on absolutely everything, so concerned was he to ensure that everything was perfect.
"We have handwritten notes to wineries, lists of contents of his cellar, invitations that would have been impossible to refuse, a note in which he organises the household condiments and a cheque book full of stubs showing evidence of party after party."
Co-curator Pen Vogler said: "The exhibition revolves around the experiences of the rich and poor, both of which are captured brilliantly in Dickens's novels and both of which he encountered at different stages of his life.
"Food is everywhere in Dickens's stories and almost always significant; consider the importance of Pip's stolen pie in Great Expectations or the 'prize Turkey' that Scrooge gives to the Cratchits in A Christmas Carol.
"Food, and the lack of it, is so central to Dickens's work that it comes as a real surprise that the hunger of his childhood years was not revealed until his biography was published shortly after his death."
Cindy Sughrue, director of the Charles Dickens Museum, said: "We are most grateful to Arts Council England for awarding us a National Lottery Project Grant to support the exhibition, as well as an associated education and engagement programme."
Food Glorious Food runs from November 28 2018 to April 22 2019 at the Charles Dickens Museum.