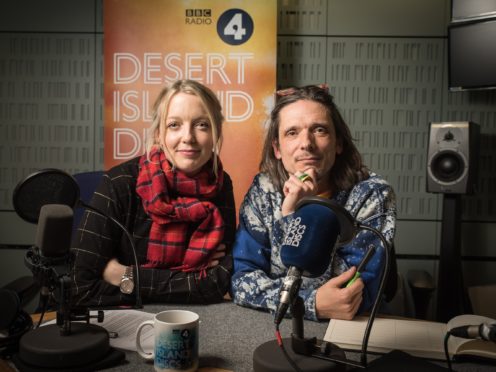 Turner Prize-winning artist Jeremy Deller says his practical skills are of a "Laurel and Hardy standard" and he once burnt a print by David Hockney.
Deller is best known for his public artworks, including a re-enactment of one of the most violent confrontations in the miners' strike.
But he tells Desert Island Discs that he has "nightmares" thinking about what his fate would have been, had he not been able to dream up ideas for a living.
"I tried to work in a gallery once and it didn't go well at all. I burnt a Hockney on the first morning of the first day that I was a technician," he says.
"It had a sticker on the back and the chief technician said, 'You've got to take this sticker off'. It was an auction house sticker….
"It looked like a hairdryer but it was actually a wallpaper stripper… I didn't realise….
"I did an amazing job. I turned the frame around (and) saw a big black mark on the print and condensation on the inside of the frame.
"I'd dried it out and burnt it. I put it in the racks and didn't tell anyone."
Deller is most famous for getting young men to appear, unannounced, in stations and shopping centres across Britain dressed as First World War recruits, in a moving, one-day tribute to soldiers who died during the Battle of the Somme.
Most of his work, which has included a brass band playing acid house anthems, is not designed to be sold.
But he tells Lauren Laverne that even when he tries to be commercial, it does not work out.
"I do sell things occasionally but I don't go out of my way to attempt to do that.
"I did that once. I tried to make an exhibition of things in a commercial gallery and I sold one thing and then it didn't get much better than that… "
He created silk screen works with smiley faces and says: "I thought that was such a nice thing to have… But no-one else wanted them, so even when I try I can't do it."
Deller, who scooped The Turner Prize in 2004, previously told how the secrecy of his Battle of the Somme project meant that organisers had no idea what the reaction to it would be, and so they prepared the volunteers for potential verbal and physical abuse.
"But people were crying around them," the artist tells the Radio 4 show.
Jeremy Deller is on Desert Island Discs on BBC Sounds and BBC Radio 4 today at 11:15am.