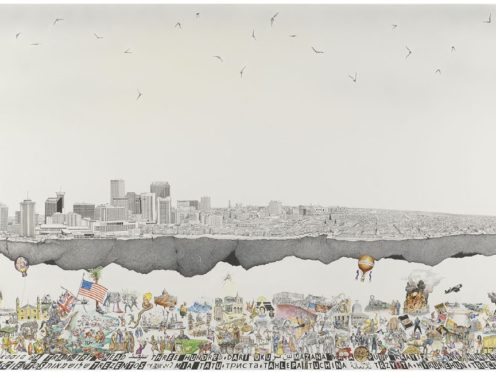 A British artist's work capturing 300 years of history in New Orleans has become available to the public online.
Robin Reynolds' pen and ink piece, New Orleans: Between Heaven And Hell, is almost two metres long and was exhibited in the city as part of events celebrating its 300th anniversary last year.
Now a multimedia version of the work has been made available online, functioning as an educational tool.
An interactive guide to the work was created by the artist's brother, London-based Simon Reynolds, and features the voice of former BBC journalist Cathy Loughran.
The project was undertaken in collaboration with The Historic New Orleans Collection (THNOC), custodian of the city's records and historic objects.
The work captures the history of the US city, from the slave economy, fires, plagues, wars and Hurricane Katrina, as well as its music and culture.
Reynolds, 65, from Ruscombe, Berkshire, said he hoped the interactive art work would help people "delve further into the city's history".
"As far as we know this art-to-archives concept is unique, and it's been a privilege to apply it to such a fascinating and inspiring subject," he said.

"For me this is about how New Orleans has endured, so joyfully and creatively, through plague, natural disaster and bitter social division across the centuries.
"I hope our graphic depiction conveys that, and encourages people to delve further into the city's history."
Deputy director of THNOC Daniel Hammer said: "The level of detail Robin was able to execute in the drawing is remarkable.
"It took one look to say the public is going to be enthralled by this piece."
The original pen, ink and watercolour version of the piece was shown at the exhibition Art Of The City: Postmodern To Post-Katrina, in May last year.
Robin's panorama of London was displayed as part of the events marking the 400th anniversary of Shakespeare's death in 2016.
The interactive work can be found online at nola.simrey.com.