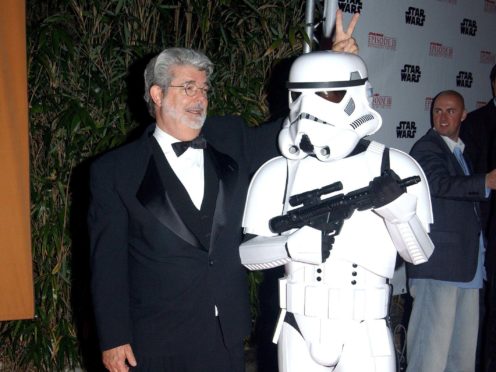 Star Wars creator George Lucas has been pictured holding the internet sensation inspired by one of his most famous characters, Yoda.
American filmmaker Lucas, the force behind the Star Wars and Indiana Jones franchises, has been pictured holding Baby Yoda, the character from the Disney + Star Wars spin-off series The Mandalorian.
The pint-sized green, big-eared creature has become a viral hit since the series aired in the US.
It will only air in the UK this year.
Images and memes of Baby Yoda, officially known as The Child, have become an internet sensation.
The Mandalorian director, Jon Favreau, shared the slightly blurry picture of Lucas and Baby Yoda on Twitter.
The picture caused fans to speculate if Lucas would be involved in writing anything for the second series of The Mandalorian, the return of which was confirmed by Favreau in December.
Baby Yoda, an animatronic creation operated by a team of puppeteers, was introduced to fans for the first time in the show's first episode.
He is not a young version of Yoda from the Star Wars films but as soon as he emerged out of his floating crib, fans have speculated about his identity.
He was revealed to be the bounty that the mysterious Mandalorian of the title was hired to track down, dead or alive, but little else is known about him.
It was also disclosed that he is 50 years old, an infant compared to the 900 years adult Yoda was alive.
According to the synopsis on the official Lucasfilm website, The Mandalorian is "the story of a lone gunfighter in the outer reaches of the galaxy".