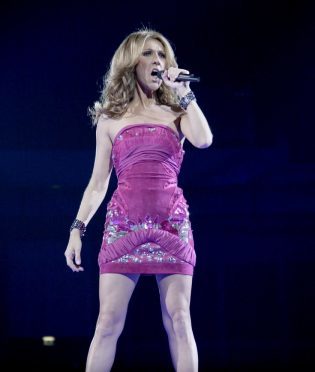 Celine Dion has told fans she was "thrilled" when she received a visit from Adele at one of her recent concerts.
Dion was forced to cancel a number of her Las Vegas concerts last week due to a cold, but she has now said she is feeling better and shared her delight that the British singer had managed to come and see her earlier in January.
The Canadian music star posted a picture herself posing with Adele, who was wearing a top emblazoned with Dion's face, on Instagram.
Dion wrote: "I had a pretty rough time during the last couple of weeks… a lot of people have been hit with cold and flu bugs… but I'm doing much better now.
"Wasn't able to do all my shows, but was thrilled that Adele came to one of them… I love her so much!!
On January 13, Adele posted a snap of her Dion-printed sweater on Instagram after going to watch the show.
She wrote at the time: "Queen Celine! What a show, an absolute highlight of my life, thank you so much for the attention to your crowd and insane humor. Happy new year lady x."
Last week, two of Dion's shows at The Colosseum at Caesars Palace were cancelled due to illness.
A message posted on her official Facebook page read: "Celine has been suffering for the past week from congestion and irritation of the vocal chords due to a lingering cold, and her physician has instructed her to rest until these symptoms clear up completely."