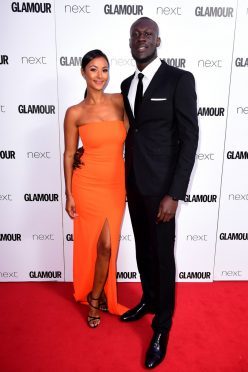 Grime star Stormzy has marked three years with his girlfriend Maya Jama.
The musician shared a photograph of himself with the TV presenter captioned: "3 years with the love of my life", followed by a heart emoji.
Jama shared the same picture, turned on its side, earlier in the week, captioned: "Lost summer files. 3 years deep."
In a joint interview in Vogue earlier this month, Stormzy, whose real name is Michael Omari Owuo Jr, recalled how they got together in 2014, saying: "We met in October, then we were going out by January."
Jama revealed they met at a global music event, saying: "We met at Red Bull Culture Clash.
"You know, if I'm really honest, I knew I fancied him from the start. But I didn't want anything yet, because, you know, you're trying to do the whole friend situation first, and then I'd do, like, obvious hints that I fancied him and then take it back because I didn't know if he definitely liked me.
"It was a childish phase. And then one day we just kissed, and that was that!"