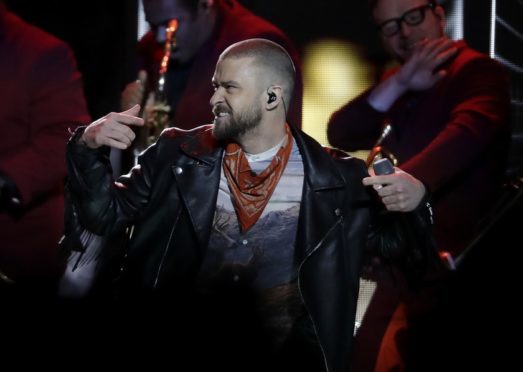 Justin Bieber has congratulated Justin Timberlake on his half-time show at the Super Bowl.
Timberlake paid tribute to Prince during the show by performing a "duet" with the late singer, performing I Would Die 4 U as a video of Prince also singing the hit was projected on to a huge piece of white material.
The performance featured a rendition of Timberlake's new single Filthy and was followed by a medley of some of his greatest hits, including SexyBack, Senorita and Cry Me A River.
This was Timberlake's third musical appearance at the Super Bowl but his first as the headline act.
Canadian popstar J Bieber wrote on Instagram: "Loved this performance. So much prep for a performance like this, memorization, hits, choreography, while not running out of breath and singing in tune!
"You stayed in pocket effortlessly. You are a natural born performer and you make people all around the world smile when you are on that stage!!
"Loved cheering you on brotha!, oh and by the way didn't know you were a blood! KIDDING! Again kudos JT @justintimberlake".
Bieber's "blood" reference in his Instagram post appeared to be a nod to the red bandanna Timberlake was wearing around his neck.
Bloods references the American street gang of the same name who are famous for their rivalry with the Crips. Members of the Bloods are known for wearing red items of clothing.
Pop singer Pink, who sang the national anthem on the night, posted a shot on Instagram of the 66,000-strong crowd watching Timberlake's performance.
She said: "Get it @justintimberlake ❤️ I've been opening for you since I started lol and I'm not even mad"
Nick Jonas was also impressed by the half-time show.
He tweeted: "Two words. JUSTIN TIMBERLAKE. Wow that was unreal. LEGEND. #SuperBowl"
Ex bandmates NSYNC also congratulated Timberlake on his performance, saying he "killed it".
They said: "Well done @jtimberlake you killed it! #nfl #pepsihalftime"
Talk show host Ellen DeGeneres posted a moving animation of her dropping the mic to congratulate the singer on Twitter writing: "My friend @JTimberlake just killed it. #SuperBowl #JustinTimberlake"
British singer George Ezra showed his admiration for the pop star tweeting: "When I grow up I want to be Justin Timberlake"
Conor Maynard expressed his disappointment at Timberlake not bringing out his former band N'Sync on stage.
He tweeted: "Ok here we go he's gonna do it.. any second now.. BOOM! BYE BYE B… oh.. he didn't bring them out.. #justintimberlake #SuperBowl2018 #wherewasnsync"
Timberlake shared a series of six Instagram posts throughout the night showing him and new band The Tennessee Kids in action.
All of his posts were captioned with the hashtags #SBLII #PepsiHalftime @Pepsi @NFL #MOTW
He also posted a selfie with his wife, actress Jessica Biel, after his performance.
He wrote on Instagram: "3 mins left. 1 point game. #SBLII" making it clear just how dramatic those last few minutes of the game were.