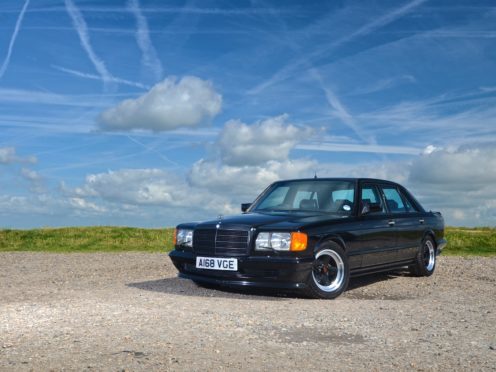 Baby you can drive my car! Or certainly George Harrison's cherished 1984 black Mercedes which is expected to fetch £40,000 at auction next month.
The ex-Beatle had the Mercedes 500 SEL AMG customised to his liking – including the addition of a wired-in mobile phone – in May 1984 when he bought the vehicle near to his home in Henley-on-Thames, Oxfordshire.
Spoilers, a leather steering wheel, and a black chrome trim were also added to the car, eventually setting Harrison back a total of £85,000.
But all the investment was perhaps worthwhile after the car made a cameo in the band's official Real Love video in 1995.
Harrison clocked up 30,000 miles on the Mercedes during his 16-year ownership before he sold it to a friend in August 2000.
Omega Auctions will put the item up for sale in Newton-Le-Willow, Merseyside on March 24.
Included with the car is a pile of MOT certificates and paper with mileage recorded annually from 1996 together with the original service book.
Auctioneer Paul Fairweather said: "George loved and cherished this car for 16 years.
"It's a beautiful looking car, a classic in its own right and ready to drive away."
Last year, Harrison's rare black Porsche 928 fetched £37,000.