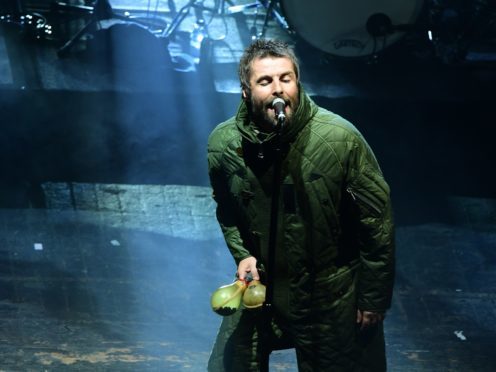 Liam Gallagher has paid tribute to the victims of the Manchester Arena bombing at the Brit Awards after Ariana Grande was forced to pull out due to illness.
The American pop star was due to take to the stage to remember the victims of the attack that took place at her concert in May last year, but was not well enough to travel to the UK.
Gary Barlow introduced Liam Gallagher, who performed Oasis track Live Forever, and said the victims "will always live on forever in our hearts, in our minds and in our memories".
The Take That star said: "May 22 2017 will always be remembered for the saddest of reasons. That night 14,000 people were having a wonderful time watching Ariana Grande at the Manchester Arena.
"These innocent, beautiful music-loving people were blissfully unaware that in just a few moments their lives would change forever.
"A horrific terrorist attack took place, stealing the lives, dreams and futures of 22 people while injuring and maiming hundreds of others.
"Lives changed irreparably forever. A few weeks later Ariana returned to the city to host the One Love Manchester concert, helping the families of the victims and survivors of the tragedy.
"It was an event that epitomised the human spirit, an event that showed hate will never win, and fear will never divide us.
"In a tribute to the people we so sadly lost that day but who will always live on forever in our hearts, in our minds and in our memories, please welcome on stage, Liam Gallagher."
On Wednesday afternoon, the chief executive of the Brit Awards confirmed that Grande was unable to travel to the UK.
Geoff Taylor told BBC Radio 5 Live: "We think it's really important to recognise that terrible atrocity and the impact on so many lives so I can confirm we did have Ariana Grande lined up to make a performance tonight.
"Unfortunately she was not able to travel on doctor's orders, she's not well, and I can say that there will be something tonight."
Two weeks after the Manchester attack, Grande returned to the city after organising the One Love Manchester benefit concert, which enthralled and warmed the hearts of a global audience of millions.
Meanwhile, Dua Lipa paid tribute to the power of women as she picked up awards for British female solo artist and British breakthrough act.
The singer-songwriter, who is the first female in the history of the Brits to be nominated for five awards in one year, picked up the first gong of the night.
The 22-year-old was one of the first to arrive on the red carpet before the ceremony, and carried a white rose in support of victims of sexual harassment and assault.
The star paid tribute to women who had been on the Brit Awards stage before her as she collected her prize from pop princess Kylie Minogue and Stranger Things star Millie Bobby Brown.
After thanking her record label, her crew, her family, friends and fans, she thanked "every single female that has been on this stage before me, that has given girls like me – not just girls in the music industry – but girls in society, a place to be inspired by, to look up and have allowed us to dream this big."
She added: "Here's to more women on these stages, more women winning awards and more women taking over the world."
This year's Brit Awards sees Dua Lipa leading the pack with five nominations, while Ed Sheeran won the Global Success award.
Stormzy triumphed over Ed Sheeran to win British male solo artist, while Foo Fighters won best international group.
Other winners have included British single for Rag'n'Bone Man for his track Human, and Kendrick Lamar won international male solo artist.
Lorde was named international female solo artist, and Gorillaz won the British group award.
The ceremony, held at London's O2 Arena, has seen music stars emulating their film colleagues as anti-sexual harassment movement Time's Up took a prominent place on the red carpet.