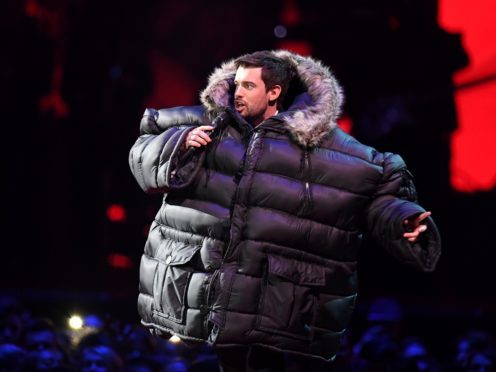 Jack Whitehall amused viewers of the Brit Awards as he made his debut hosting the annual ceremony.
The comedian appeared in a pre-filmed skit with Man's Not Hot rapper Big Shaq, and joked that "man is extremely hot" as he made his arrival on the stage clad in a humorously oversized padded jacket.
Whitehall spent much of his time hosting poking fun at the star guests, and himself.
One instance saw him quip that Olly Murs was in the toilet tweeting about a fire on stage after a performance, referring to when the singer had tweeted from a department store about "gunshots" he thought he heard during an incident on London's Oxford Street in November.
Whitehall also interviewed singers Cheryl and Liam Payne in the audience, making a joke about their saucy "safe word" and making a hint about their sex life, much to the couple's surprise.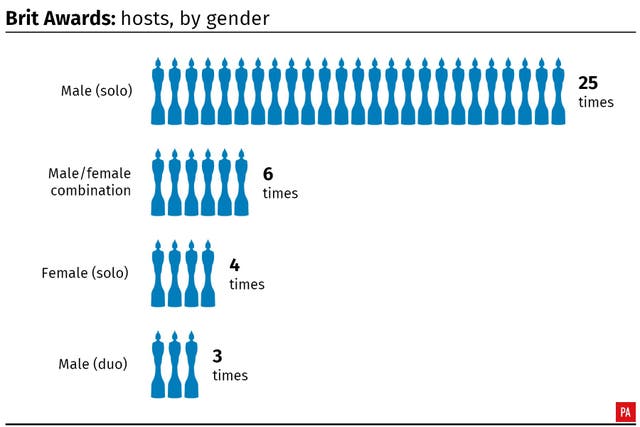 Another moment saw him rubbing the head of Made In Chelsea star Jamie Laing, who was sat in the audience, and joking that they had both "gentrified" the Brits with their attendance.
Fans found Whitehall's mocking comments amusing, and many were surprised that they were enjoying his commentary.
One viewer wrote on Twitter: "Okay so I was sceptical when I heard Jack Whitehall was doing it but I'm in hysterics watching him mug everyone off."
Another said: "Jack whitehall casually giving digs at everyone is the only entertainment #BRITs2018 #BRITs."
"Jack Whitehall is one of the best hosts the Brits has ever had! He's hilarious! #Brits," one commented.
One viewer said that Whitehall "better be back next year" and another added that he "should host every year".
Whitehall's most popular dig was directed at footballer Harry Kane, who appeared alongside Camila Cabello to present an award.
As he introduced Kane, Whitehall quipped: "Our next presenter is a Tottenham striker… meaning the Brit Award he hands out tonight will probably be the only trophy he gets his hands on this season."
"HARRY KANE HAS JUST BEEN RIPPED BY JACK WHITEHALL," one viewer said, using a crying-laughing emoji to share their amusement.
Another wrote: "Jack Whitehall has ruined Harry Kane there loooooool."
However, the 29-year-old comic did draw some criticism with the way he pronounced singer Cabello's name when he introduced her.
One said, using crying emojis to complete their sentence: "Jack whitehall just absolutely butchered camila's name i'm (crying)."
Another wrote: "hahahahah jack whitehall is gonna get attacked so hard by camila's stans for pronouncing her name wrong #BRITs."
Several other viewers were less than impressed at Whitehall's hosting style, with one writing: "Jack Whitehall is not a good presenter.
"He's like a rabbit in the headlights trying to read that autocue. I'm not sure whether that's actually his act. #BRITs2018."
"How does anyone find Jack Whitehall funny?" another asked.
Whitehall took over the presenting job from last year's hosts Dermot O'Leary and Emma Willis. Previous Brit presenters have also included Ant and Dec, James Corden and Russell Brand.