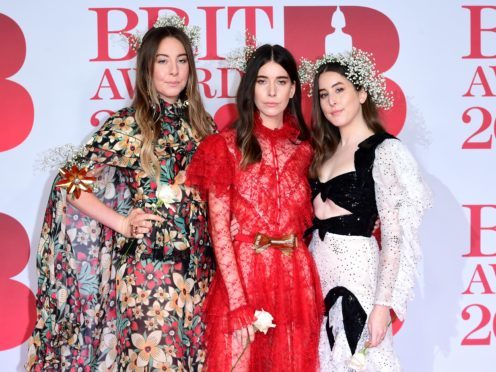 Singer Este Haim has phoned Cheryl to say there is "no beef" between them after the moment she upstaged her at the Brit Awards went viral.
The star, who is a member of US pop rock band Haim with her sisters Danielle and Alana, grabbed the audience's attention at the awards ceremony when she was caught on camera jokily flirting behind Cheryl and boyfriend Liam Payne during an interview.
Este was seen waving and winking at the camera while Cheryl and Payne, oblivious to what was going on, continued chatting to Brits host Jack Whitehall.
The "videobomb" moment caught the attention of Brits viewers on social media, with Este being described as an unknown "drunk woman" by some.
TV presenter Denise Van Outen was one of those who enjoyed it. She shared an Instagram clip of the moment and wrote that she was "crying at this chick".
Having partied after the Brits all night, Este and her sisters appeared on Nick Grimshaw's BBC Radio 1 Breakfast show, where she called the former Girls Aloud star live on-air.
In a voicemail message, she told Cheryl: "I just want to let you know, there's no beef … and I'd like to invite you to my show at Alexandra Palace on June 13."
Giggling, she corrected herself: "June 15 2018. It's early and I haven't slept – big kiss, lots of love, there's no beef, we're all friends here, big hug, big kisses, love you, call me. I'll text you my number."
Her sisters and Grimshaw, who were admittedly all a bit worse for wear after the Brits, fell about laughing in the studio after the call.
During the early-morning radio broadcast, Grimshaw filmed the members of Haim dancing around his studio and eating pizzas for breakfast.
Haim, who were nominated for international group at the Brits but lost out to Foo Fighters, had earlier admitted that they had not yet slept and had not managed to buy food to ease their hangovers.
Grimshaw told listeners: "I've had no sleep but I wasn't out raving all night. I got to, like, two o'clock, three o'clock, and thought 'Do you know what's a good idea? Not going to bed – what I'm going to do is watch Location Location Location and eat pasta till five'."
One of the members of Haim said: "We watched Nothing To Declare, which is one of our favourite shows.
"And we tried to get bagels, but the bagel place was cash only and we didn't have cash! We begged the bagel place 'Please, we really want bagels right now'.
"We tried three different ATMs and none of our cards worked, so we must only have to pesos to our name! We're running on nothing right now."
Grimshaw posted a picture of himself with the singers holding up pizza, and called them the "straight through crew".