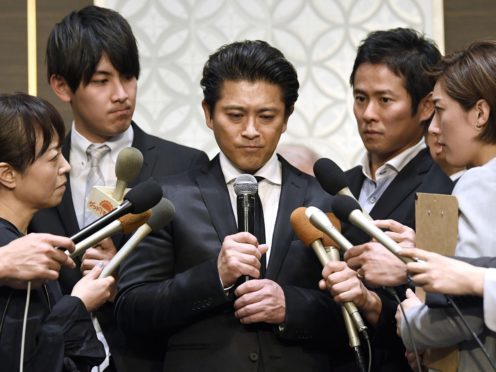 A Japanese pop star who acknowledged last week that he had sexually harassed a teenage girl has announced he is quitting hit band Tokio.
Tatsuya Yamaguchi apologised to the other members, getting on his knees in repentance, and submitted his resignation on Monday night, said band leader Shigeru Joshima, but there was no immediate decision on whether to accept his resignation.
The four remaining members appeared in a news conference on Wednesday that was broadcast live on national television, making the Tokio scandal one of the most high-profile #MeToo cases in Japan in recent weeks.
The group will not disband and the other members will continue with any work offered, seeing it as their duty "as professionals", Joshima and the others said.
"We have a responsibility first as Tokio," he said, after bowing deeply with the other members.
Dressed in dark suits and ties, they appeared solemn and tense in front of flashing cameras at a packed Tokyo hotel room.
Joshima said the group decided to apologise publicly to the victim and her family, fans and other people who were shocked and hurt by the scandal.
Yamaguchi acknowledged he forced a kiss on a high school student in February. She reported it to police.
Authorities decided not to pursue charges against 46-year-old Yamaguchi after the parties settled out of court.
Tokio is one of the leading groups under Johnny & Associates, a major Japanese entertainment company, with mega hits such as Ambitious Japan and Love You Only.
Its members also appear as actors in TV shows and movies as well as talk show hosts.
Tokio were tapped as "special ambassadors" for the 2020 Tokyo Olympics, although it is not clear if the scandal will change that.
They have also been promoting the revival of Fukushima in north-eastern Japan which was devastated in 2011 by an earthquake followed by a tsunami and a nuclear reactor meltdown.
Awareness about sexual misconduct has been relatively slow to take off in Japan, where gender equality lags behind other developed economies.
But the public attention the Tokio case has garnered is helping making #MeToo a household word.
Sexual misconduct by a government bureaucrat has also grabbed headlines in recent weeks. The Finance Ministry official, accused of making lewd remarks to a reporter, has resigned.