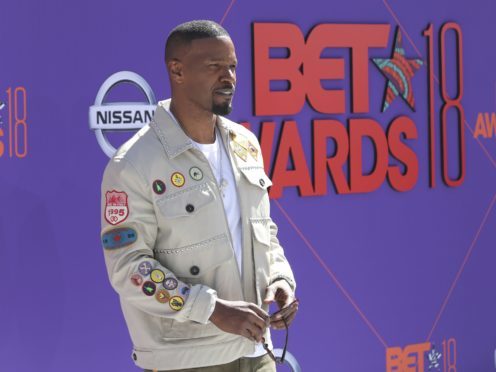 Host Jamie Foxx praised Black Panther as he opened the 2018 BET Awards.
The Oscar-winning performer was fronting the annual awards ceremony, which celebrates African Americans and other American minorities in music, film and sports, for the second time.
Among the nominees are Jay-Z, Kendrick Lamar and DJ Khaled while Nicki Minaj, Meek Mill and Miguel performed.
During his opening speech at the Microsoft Theater in downtown Los Angeles on Sunday, Foxx, 50, took a dig at President Donald Trump while introducing superhero blockbuster Black Panther.
He said: "I am not here to host, I am here to celebrate. Black excellence televised. We have to address the panther in the room. Ladies and gentlemen, we have to address the panther in the room.
"We do not need a president right now because we've got our king. King T'Challa, make some noise."
Foxx then told the audience Black Panther is the third highest grossing movie of all time, as well as the highest grossing Marvel film.
After praising the director, Ryan Coogler, Foxx invited one of the film's stars, Michael B Jordan, onto the stage and asked him to recite a line from the film, claiming it is "so significant, for today right now".
The actor replied with: "Bury me in the oceans with my ancestors because they jumped from the ships because they knew that death was better than bondage."
Also nominated at the 2018 BET Awards are Beyonce, Rihanna and Bruno Mars.